Echoes of the post-impressionists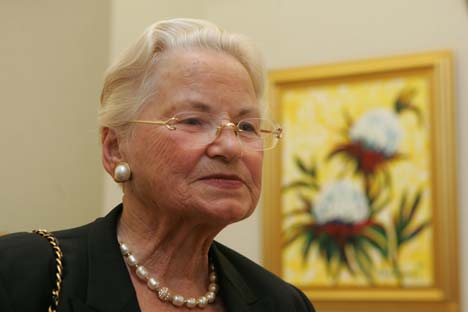 Anna Tsarev and one of her paintings. Photos by Maria Golubkova
An exhibition of paintings by Ana Tsarev, called "The Life of Flowers," opened at St. Michael's Castle , an annex of the Russian Museum in St. Petersburg, last weekend. Tsarev, who has a gallery in New York, has a penchant for vivid and rich colors, an energetic style and laconic composition. In the tradition of Naïve artists, Tsarev explores the magnificent diversity of flora in far-flung places.
"Ana Tsarev has developed a powerful, sweeping style that echoes the energy of the Post-Impressionists," said the curator of the exhibition, Alexander Borovsky, referring to the French art after Manet. "Her method relies on "moulding, superimposition of layers and tactile contact with paint and canvas."
The large portraits of flowers seem to be replicas of one another, but they are transformed through color and mood. The bright and exotic strelitzias, elegant orchids, and regal lotuses are the real heroes of Ana's works. After spending many years as a professional gardener, landscaping gardens in many countries, she is now giving a new lease on life to short-lived buds.
"Orchids are my favorite flowers," she said. "What I like most is the opening buds, but in general I like all flowers. They are like children to me. And they never let you down."
This is Tsarev's first exhibition in Russia. The 74-year-old artist received an invitation from ladimir Gusev, director of the Russian Museum, who visited her gallery in New York. Preparations took about a year and now about 50 of her paintings are on display at the palace, which is a branch of the Russian Museum. Tsarev opened her own gallery in New York for her works, and she has had exhibitions in many countries, including at the Fine Arts Museum in Hanoi. The "World of Flowers" exhibition runs through the 3rd of September.
Tsarev was born in Croatia, but has Russian ancestry. She spent some of her life in New Zealand and Australia, and her work is influenced by her travel and experiences. Her trip to St. Petersburg for the opening was her first visit in 60 years.
All rights reserved by Rossiyskaya Gazeta.