Life after Borders: Summer school as summit for students from Russia and the E.U.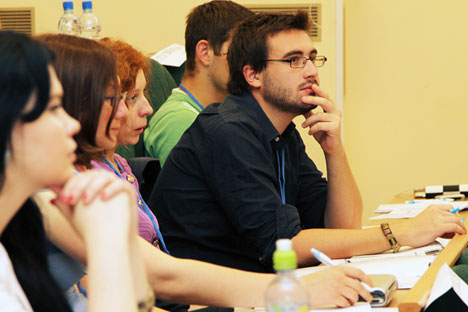 What better place could there be to hash out old differences than Kaliningrad, Russia's far-flung western outpost? This week, students from Europe and Russia came together to brainstorm on how Russia and the European Union can communicate better.
An international summer school for political science opened its doors this week in Kaliningrad, Russia's western-most region. The program, attracting the best and brightest students from Russia and the European Union, is part of an ongoing initiative to help Russian students exchange ideas, problems and solutions, and especially develop long-term networks, with European neighbors.
Immanuel Kant Baltic Federal University, Kaliningrad region's leading institute, hosted political scientists, journalists and historians. The university is named after one of Germany's most esteemed philosophers, a man who furthered the Enlightenment but never traveled 10 miles outside of Kaliningrad, which was then Konigsberg. More than 200 years after Kant, students from Kaliningrad, Moscow and St Petersburg joined their peers traveling from Poland, Lithuania, Estonia, Latvia and Germany. European and Russian politicians and experts gave lectures to the students followed by hands-on assignments designed to help them master new research methods.
The main theme of this first youth forum was Russia-EU: New Institutes, New Elites, New Images, and was designed to engage students to offer solutions to issues. The topics were focused on Russian-European relations today—such as making the institutions for Russian-E.U. interaction more efficient; helping to eradicate negative stereotypes about each other; and defining the role the Russian-speaking minority plays in the Baltic member states of the E.U.
Lukasz Cudny, a Polish student from Warsaw, said he was concerned about future relations between Poland and the Kaliningrad region. Lukasz noted that it is not that hard for Polish citizens to get a Russian visa, but abolishing visa requirements altogether would be a significant boost for Russian-Polish relations in the region. Among other things, Russians in the Kaliningrad, an enclave within the European Union bordering Poland and Lithuania, would find it easier to travel back and forth to mainland Russia.
Pavel Shamshiyev, a Russian student from Kaliningrad and participant in the summer school, said he is interested in two themes: Why stereotypes are perpetuated, and the prospects for abolishing visa requirements between Russian and EU countries. "It's difficult for me, as a Kaliningrad resident, to get to the Russian mainland, especially because of high airline-ticket prices. "We all support abolishing visa requirements; this is a life necessity for the Kaliningrad region, since it doesn't share a border with mainland Russia."
The Baltic agenda
The international school's students are especially interested in relations between Russia and the Baltic States. Michael Webb, Deputy Head of the E.U. Delegation to the Russian Federation, told students during a speech, "Historical issues are important in Russian-Baltic relations, and we cannot just turn the clock back. After Estonia, Latvia and Lithuania joined the E.U., I think it would be fair to say that Russia's relations with the Baltic States experienced some rough patches. I am happy to say that things now are much better than before."
Webb said the E.U. has focused its attention on cooperation in the Baltic Sea area, specifically on projects such as a cross-border cooperation program co-financed by the European Union and Russia. He added that it is easier to cross the border: "Delays have decreased and the transport flow is up; we are working to making things here even more favorable.
He also is concerned about the Russian–speaking minorities in the Baltic states. "We mustn't forget about the Russian-speaking minority either, especially in Estonia and Latvia...We reached an agreement with the Estonian authorities so that Russian minorities will not be discriminated against," the European diplomat said.
Georgy Mikhno, head of the E.U. Unit for the Russian Ministry of Foreign Affairs' European Cooperation Department, said that progress had also been made on annulling visa requirements between Russia and the EU, an issue that is especially important for residents of the Kaliningrad region.
"We have a ready-made document for making a step-by-step transition to visa-free travel. This document will enter into force by the end of the year, thus bringing an end to this issue," Mikhno said. He said he believes that liberalizing visa requirements between Russia and the European Union, with future prospects to annul them completely, is absolutely essential if Russian-E.U. relations are to truly be overhauled in a full-fledged manner.
Kaliningrad putting its bets on students
The Kaliningrad international school wraps up classes at the end of this week. "We are making efforts to turn our university into a research base for the Baltic region. Kaliningrad remains at the center of political debate," said Andrei Klemeshev, dean at the Immanuel Kant Baltic Federal University.
Vadim Smirnov, head of the university's Center for Social Sciences and Humanities, added that Kaliningrad is an ideal place for high-level expert debates and discussions, given that the western enclave is unique in terms of its geographic location and political conditions.
Kaliningrad will also host the Baltic Education Forum in October. Founded in 2006 as a platform for discussing the school's development, the annual forum brings together university deans and administrators from educational institutions across 40 Russian regions and 10 European countries.
All rights reserved by Rossiyskaya Gazeta.