'Moscow is a city of possibility'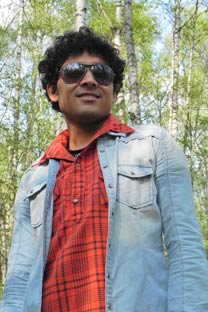 Parth Nama. Source: personal archive
Parth Nama was among ten Indians who travelled to Russia recently for a ten-month course to learn the Russian language. In this impressionistic memoir, he recalls the enchanting beauty of snow-clad Moscow and his first exposure to different cultures and nationalities at the learning institute. Moscow is indeed a city of possibility, says he.

I was really lucky that I got the opportunity to go to Moscow and study there. When I started to learn the Russian language in Delhi, I used to think that one day I will go to Moscow but I did not know my dream will come true so soon. Barely one year later, I got the chance to go the bustling metropolis. I spent ten months there learning the delicacies of the Russian language, and those ten months were some of the most memorable days of my life. I have beautiful memories of the place, and its warm and generous people. Words are sometimes not sufficient to convey intense emotions, but I will try.

My first impressions of Moscow are vivid as though it was all yesterday. I remember landing at the Moscow airport with a tingling sense of anticipation. I came out from the airport and took a taxi while going to my institute. It was raining outside the street and trees were yellow and gold. It looked absolutely beautiful, and left me somewhat speechless. It won't be an exaggeration if I say it was like heaven on earth.

After sometime the weather changed, and it started snowing. This was the first time I was seeing snow, and it had a magical effect on me. In northern India where I live, it's hot most of the year, and winter is mild by Russian standards. It was therefore like stepping into a fairy tale world. On days when there was heavy snowing, roads were covered with white sheets. Trees looked languorous and tired as though they wanted to sleep. But Moscow never sleeps; in the night also one could see workers removing ice from the road. After a prolonged winter, nature bloomed again: one could see yellow flowers everywhere and it was sunny most of the time. You will not believe that it was almost like day at 10:30 pm at night. It's like you are going to sleep and it's still sunny outside.

The place where we lived in Moscow was not only comfortable, but was equipped with all modern amenities. The hostel and the adjoining institute were located in a majestic 14-floor building. There were all kinds of facilities in the hostel for students: gym, playgrounds for football and basketball, bar and cafeteria. Every floor there had its own kitchen, a room for self-study and a room for rest and watching TV. In short, it was a great place to study and I got everything I needed.

What's more, it was not just a language learning institute. It was a mini-world of sorts with different languages and nationalities happily coexisting. There was students from 80 countries, so I not only learned Russian but I also learned about other cultures and ways of life. Besides Russian, I also picked up a smattering of Spanish and Polish language. I enjoyed jiving to salsa, and relished Polish food. In return, I also gave my colleagues a taste of India and its ancient culture and philosophy. I taught them yoga and Sanskrit.

The architecture of the city is elegant and is redolent of an ancient culture navigating its way to modernity. I admired majestic tall buildings in the city. And I absolutely loved the Kremlin. And the beauty of the Bolshoi Theatre is hard to describe. You got to see it to believe it. I read somewhere Moscow is the city of possibility. Having spent tent months in this beautiful city, I can't but agree more.
All rights reserved by Rossiyskaya Gazeta.