Imagine Moscow twice as big - that's the plan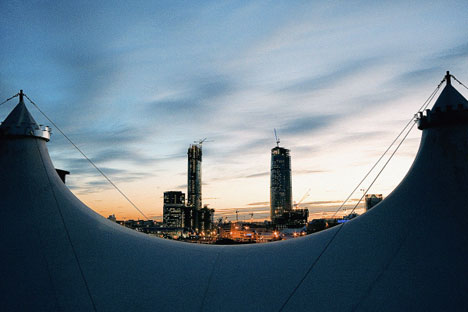 Can a hub-and-spoke expansion save the city from itself?
Moscow just might get a little bigger.
City planners are considering an ambitious plan to turn a large swath of the suburbs into a federal center with relocated ministries and government buildings, and the proposed development has the working title of "Moscow-2."
Officials said the preferred location for the federal center is a 144,000-hectare chunk of land between the Varshavskoye and Kievskoye highways southwest of the city.
Experts said over 100 million square meters of real estate could be built in the area, and it ultimately could be home to two million people. Officials said they are uncertain if the area will be a municipality, a district or a city neighborhood.
"Building the satellite city will be a shot in the arm for developing nearby districts in the Moscow region," said Vladimir Avdeyev, a general partner at S.A. Ricci, a commercial property firm. "While business activity is likely to be concentrated in the administrative center, the city's residents will spend their leisure time in the neighboring villages and townships where there will be townhouses and condominiums for government officials."
Real estate experts said Moscow-2 will also feature high-end boutiques and up-scale restaurants, and it will have a thriving nightlife.
Architects said such a large-scale development presents significant challenges. And the need to blend administrative offices and business centers with residential development and social infrastructure will require careful planning.
"The plan has to be implemented over 25 to 50 years, otherwise the new city will outgrow whatever we build," says Pavel Andreyev, an architect and the head of Workshop 14 at the Mosproject-2 design institute.
Some architects recommend building Moscow-2 symmetrically. Astana, Kazakhstan's shiny new capital, was built on the same principle with development branching out on a hub and spoke principle from administrative and residential nodes. In the Moscow region, a key goal would be the creation of transportation networks within the newly developed area to prevent it from becoming a burden on the region's already overburdened roads.
The creation of a new administrative center outside Moscow's traditional borders will likely reduce the gap between real estate prices in the city and its suburbs, experts said. Indeed, real estate prices within the new Moscow area are expected to rise by 20 to 30% as people are drawn to neighborhoods near government workplaces and the new amenities development will bring.
And future residents are unlikely to care whether they live in Moscow, the Moscow Region or the Moscow Federal District.
Click to view the larger version
All rights reserved by Rossiyskaya Gazeta.