Murdoch sells Russian assets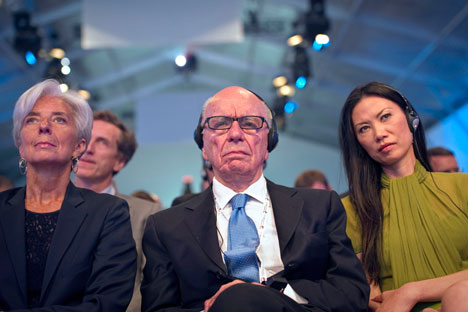 Rupert Murdoch. Source: AP
Embattled media mogul Rupert Murdoch has sold his Russian advertising company News Outdoor to the state-owned investment bank VTB Capital, the bank said in a press release today.
Murdoch was one of several international media magnates that flirted with investing into Russia's burgeoning media industry in the 1990s, along with CNN's Ted Turner, but no deals were closed.

Since Vladimir Putin took over as president in 2000, the state has taken a tighter control of the media business and foreign investors have judged the sector too politicised for investing. (The notable exception is CTC (also known as STS), Russia's leading and listed commercial TV station.)

News Outdoor is a big player in the billboard (OHH) business that litter the streets of Moscow, which has been the source of controversy in the past. Permits to put up billboards that each earn between $400 and $4000 a month became a source of income for mid-ranking city officials. Moscow Mayor Yuri Luzhkov, who was ousted last year, was criticised for his inability to control the explosion of billboards and so many mushroomed around the city that residents complained. However, efforts to limit the number of billboards have only been partially successful.

Notably, in the statement issued by VTB Capital below, the bank specifically mentions that the new management will, "interact with the federal and municipal authorities to implement programmes aimed at improving the appearance of cities."

VTB Capital is one Russia's leading investment bank and came from nowhere when it was set up in 2008 to top the ranking tables in the last two years.

VTB Capital said in its press release:

VTB Capital announces completion of deal to acquire News Outdoor Russia
VTB Capital, NOOH Investments Coöperatief and Marathon Outdoor Coöperatief have purchased a 79% stake in News Outdoor Russia belonging to News Corporation.

News Outdoor Russia will interact with the federal and municipal authorities to implement programmes aimed at improving the appearance of cities and introduce the latest technological solutions for building advertising constructions.

The Board of Directors has appointed Yevgeny Senderov of VTB Capital as president of News Outdoor Russia.

Yuri Soloviev, First Deputy President and Chairman of the Management Board of VTB Bank, Chairman of VTB Capital holding companies Board of Directors, said: "The purchase of this stake in News Outdoor Russia is the next step in implementing VTB Capital's strategy to broaden our asset management business through direct investments into private companies."

Tim Demchenko, Head of Private Equity and Special Situations at VTB Capital, noted: "Jointly with their partners, VTB Capital intends to work actively in the Russian outdoor advertising market, continuing to raise the standards of corporate management and information transparency in the industry with due consideration of international experience".

News Outdoor Russia is Russia's largest outdoor advertising operator that is present in over 50 cities of the Russian Federation. The advertising market in Russia continues to demonstrate significant growth potential in line with the growth of the Russian economy.

VTB Capital, the Investment Business of VTB Group, is one of the three strategic business arms of VTB Group, along with the corporate and retail businesses. Since its foundation in 2008, VTB Capital has taken part in more than 164 ECM and DCM deals, which were instrumental in attracting more than USD 87.8bn worth of investments into Russia.

VTB Capital has become a national leader in global investment banking. League tables for the first 6 months of 2011 show VTB Capital as #1 Eurobond bookrunner in Russia by Dealogic, #1 local bonds bookrunner by Bloomberg and #1 ECM bookrunner in Russia and the CIS by Dealogic and Bloomberg. In 2010, VTB Capital became #1 M&A Adviser in Russia by mergermarket.

In 2011 VTB Capital research team has been ranked #1 in Thomson Reuters Extel Survey and Institutional Investor All-Russia Investor Survey. Also, the company won the Cbonds Awards in several nominations.

In 2010, VTB Capital was named Best Russian Equity House and Best Russian Debt House at the Euromoney Awards for Excellence. In October 2010, VTB Capital has won The Banker magazine's annual Investment Banking Award, in the 'Most Innovative Investment Bank from Central and Eastern Europe 2010' category.

VTB Capital offers a full range of investment banking products and services, focusing on arranging operations in the debt, equity, global commodities markets, developing investment management, advising clients on M&A and ECM deals in Russia and abroad.

In 2010, VTB Capital pre-tax profit amounted to RUB 25,5bn demonstrating a 55,5% growth year-on-year.

VTB Capital operates in Moscow, London, Singapore, Dubai and Hong Kong, with headquarters in Moscow.
All rights reserved by Rossiyskaya Gazeta.