Fedor Emelianenko – the most dangerous man in Russia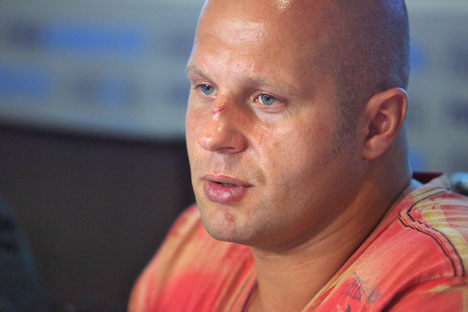 Fedor Emelianenko. Photo: Kommersant
He may be one of the most feared MMA fighters in the world, but at heart, Fedor Emelianenko is just a small-town guy.
At 6 am, the old train station covered with rust and dirt in the small Russian town of Stariy Oskol (population 221,000) seems empty and forgotten. But not for Fedor Emelianenko, who has been starting his day here with a 5 mile run his whole life. "I like it here," said Emelianenko. "I have a family, friends and my gym. Why should I change it?"
Emelianenko isn't interested in the creature comforts of a nicer gym or a more comfortable apartment. In his rusty gym with sewed-up punching bags and old-fashioned weights, he looks happy and at home. Emelianenko finds comfort in the simple, but effective habits he established more than 10 years ago. Hard work is the cornerstone of his training regime. Emelianenko's workout includes exercises such as running, push-ups and – the most spectacular one – hitting an old truck tire with a sledgehammer. What makes Emelianenko different from other athletes? He trains longer and harder.
Emelianenko's family moved to Stariy Oskol two years after his birth in 1976 in Rubizhne, Ukraine. After graduating with honors from a professional trade school in 1994, he served in the Russian army, where he became accustomed to discipline and everyday work. Being a European Sambo Champion and winning a lot of Championships in Judo, he moved to MMA in 2000. It was the beginning of a legend.
While Emelianenko is an all-around strong fighter with good striking ability, good submissions as well as good guard, he is praised for his "ground-and-pound" technique: striking the opponent on the ground with vicious strikes. His main fighting techniques are the Russian martial art Sambo and Japanese Judo. Neither combat sport is popular in MMA, where most fighters train in Brazilian Jiu-Jitsu and Muay Thai.
Emelianenko's MMA career began in the Japanese promotion fighting network RINGS. After three impressive victories, Emelianenko suffered his first loss, but it was a technical one: His opponent, Tsuyoshi Kohsaka, struck Emelianenko's head with his elbow and reopened an old cut. In the RINGS system, this meant instant defeat for Emelianenko. For two years, Emelianenko worked his way to the top of the RINGS promotion and became the RINGS Absolute Class Tournament winner in 2002.
Building on his success in RINGS, Emelianenko moved to the Japanese PRIDE network and instantly gained a victory over Heath Herring, who was considered as one of the best fighters in the promotion. This victory made way for a real challenge: a bout with the heavily favored Antônio Rodrigo Nogueira. After a hard, 20-minute-long fight, Emelianenko won the title of PRIDE Heavyweight Champion, a title he would never lose. He was the biggest star in PRIDE for years before the organization was purchased by American businessmen Lorenzo Fertitta and Emelianenko's contract expired.
After his time in PRIDE, Fedor was expected to move to the Ultimate Fighting Championship (UFC), the biggest MMA promotion in the United States, but negotiations failed, mainly because of Emelianenko's efforts to get similar contracts for his team members in the Red Devil Sport Club as well as to get permission to compete in combat sambo tournaments simultaneously.
Emelianenko's first U.S. fight was sponsored by the clothing manufacturer Affliction, which has started its own promotion network. Affliction made a huge show out of a big fight between Emelianenko and former two-time UFC Heavyweight Champion Tim Sylvia, who at the time was widely regarded as one of the top five heavyweights in mixed martial arts. Emelianenko defeated Sylvia in only 36 seconds with fast heavy strikes to the head and body. After the fight, Sylvia commented: "The guy's a stud. I don't even think he's human." Emelianenko continued his winning streak with an impressive knockout against Andrei Arlovski.
Fedor Emelianenko fighting against US star Matt Lindland. Photo: RIA Novosti
Fedor's main trademark is his charisma. When he comes into the ring, he appears as calm as a monk: no emotions, walking straight to the ring. His entrance music is a Russian Orthodox hymn. Emelianenko is famous for his strong faith. When he is at home, he plays chess and spends time with his kids – not the typical behavior of the most feared man in the world. He feels solid bonds to his hometown, Stariy Oskol, and to Russia in general. "I always wanted to represent and glorify my country," Emelianenko has said. UFC Hall of Famer Randy Couture stated once: "Unless you are Russian, you can't really understand him."
But on June 26, 2010, Emelianenko suffered his first non-controversial loss against Fabricio Werdum, tapping out to a triangle and an arm bar submission. After the fight, Emelianenko said: "The one who doesn't fall never stands up," which brought a storm of applause from the audience. Emelianenko's last fight was also a loss – against Antonio "Bigfoot" Silva.
Nevertheless, with a 27-fight winning streak and only three losses, Emelianenko is regarded as the greatest mixed martial artist of all time. Thanks to his hard work, Rocky-style training and an open heart, Emelianenko has made the transition from a small town guy to an international star without losing himself in the process. The fighter speaks for himself: "I don't want to be remembered as a legend, I want to be remembered as a normal guy."
Emelianenko's next fight, on July 30 against the American fighter Dan Henderson, is titled Strikeforce: Fedor vs. Henderson and will take place outside Chicago, Illinois.
All rights reserved by Rossiyskaya Gazeta.