First-ever Art Camp at RSCS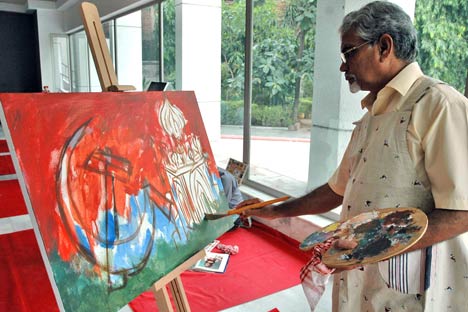 A two-day, first-ever Art Camp "Indian Artists Paint Russia", jointly organized by the Russian Centre of Science and Culture and the Forum of Indian Photographers and Artists (FIPA), was opened at 24, Ferozeshah Road, New Delhi, on July 21, 2011. Eight artists are participating in the Art Camp showing their skill in painting on canvas using acrylic colours on the theme of their own choice. The finished paintings will be exhibited at a function at RCSC in September this year.
Mr. Vimal S. Mehta, President of FIPA, observed that the Art Camp is organized with a view to bring out and encourage the talent and creativity of artists catching their imagination. He called upon to popularize such artistic ventures giving more and more scope and exposure to artists through further interaction, exchanges and exhibitions.
Addressing the artists at the Art Camp, Ms. Yelena Shtapkina, Deputy Director (Culture & Information), RCSC, said that such an event of unprecedented nature would give enormous opportunity for both amateur and professional artists to demonstrate their artistic excellence and bring to the fore the Russia of their own perception in a proper perspective. She added that such art camps would be organized in our Cultural Centres in Mumbai, Kolkata, Chennai and Thiruvananthapuram in due course. She also thanked Mr. Vimal Mehta for his sincere efforts in translating the idea of an ideal art camp into reality to the greater benefit of aspiring artists.
---
Ms. Padmini Mehta, a Bachelor of Arts (Painting), freelance artist and designer, with the credit of several solo exhibitions at home and abroad, participation in various art festivals and exhibitions at prestigious galleries and academies, winning a number of awards, chose to paint the "feel of Russia with all its multi-cultural richness" as her theme.
Ms. Bhoomika Jain, B.S. (Hons.) English & Music, a singer with AIR, is a multifaceted personality, works on various media—both in oil and water-based colours for painting where as clay and wax for sculpture, which is cast in stone, metal and raisin. Credited with holding group shows, she admits herself to be dabbling in paints and clay and swaras of music as much as she loves to express herself with words. Her theme of painting is "Russian woman" as she visualizes.
Ms. Aman Baxi, a Bachelor of Fine Arts and presently pursing Masters in Mass Communication, has Diploma in Photography. Practicing artistic pursuits for nearly a decade now manages a studio which offers service in photography, graphic arts and sculpture, too. Widely traveled, she is part of various group shows, and has chosen the theme of "peace and happiness, and moment of togetherness" for her painting.
Ms. Vinita Vasu, a Graduate from Delhi 'Varsity with training in applied art, has been part of several exhibitions, group shows and workshops. Considerable contributions to media to her credit, she has chosen "mother and child" as her theme for painting.
Mr. D. P. Srivastava, an expert in the field of fine arts, portraits and landscapes, quipped with experience in the field of police and forensic science photography, has chosen the themes of "post-Revolution prospects" and "maiden flight to Moon" for his painting. A teacher in fine arts and photography, he joined the National Institute of Criminology & Forensic Science and engaged in training police personnel on specialized field of forensic photography. He has credit of organizing workshops and conferences on different aspects of photography.
Mr. Cliff Gabriel, a self-taught artist, an active part of group shows at Habitat Centre and Travancore Art Gallery, etc., credited with display of his works at various art galleries, chose the theme of "landscapes and architecture of Russia" for his painting.
Mr. Charan Singh, a self-taught artist, a part of art camps organized by "Art People", selected the theme of "the portrait of a Russian girl" for painting.
Mr. Vimal Mehta, a qualified engineer, photo artist and painter, chose to bring out the "impression of an Indian visitor to Russia back home" in his theme of painting. Being a part of various photography exhibitions, workshops and seminars, he has the credit of organizing shows in India and abroad winning several awards, honours and laurels. Widely traveled, he has made a mark during his decades-long activities in the photographic fraternity.

All rights reserved by Rossiyskaya Gazeta.