Anyone will get a chance to observe PAK-FA's flight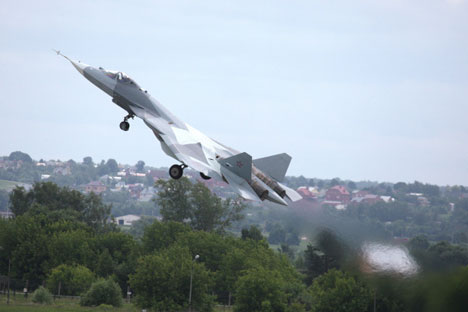 Russian fifth-generation fighter will make first public flight at Moscow air show MAKS-2011.
Russia's Sukhoi T-50 fifth-generation fighter, also known as PAK-FA, will perform its first public flight at the MAKS-2011 air show near Moscow in August, Nikolai Zanegin, Deputy General Director of Russia's Aviasalon company, said.
"Numerous visitors will see the fifth-generation fighter in the sky for the first time ever at the air show," Zanegin said in an interview with Russian magazine National Defense.
The Sukhoi T-50 fighter is being developed by the Sukhoi design bureau and built at a plant in Komsomolsk-on-Amur, in Russia's Far East. The first prototype conducted its maiden flight in January 2010 and has so far carried out over 40 test flights. Two more prototypes are at various stages of testing. The Russian Air Force has said it had plans to acquire over 60 T-50 fighters after 2015.
Although the T-50's specifications remain classified, reports indicate that the design incorporates the latest fighter jet developments, including advanced stealth capability, supersonic cruising speed, and integrated control and avionics systems.
Military experts say that the T-50 will compete with the Lockheed Martin F-22, the Lockheed Martin F-35 Lightning II and the Eurofighter Typhoon from the European Aeronautic Defense and Space Company (EADS).
The MAKS-2011 air show will be held at Zhukovsky outside Moscow on August 16-21. In all, 627 companies, including 473 Russian and 154 foreign, have registered to take part in the air show as of June 1.
All rights reserved by Rossiyskaya Gazeta.