Russia considers new Olympic bid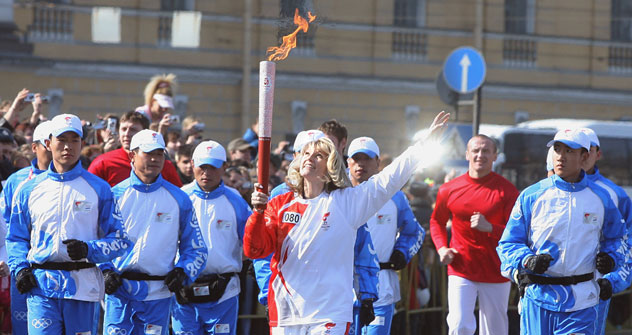 Olympic Champion, deputy chairman of Russian State Duma Svetlana Zhurova is taking part in 2008 Summer Olympic torch relay on the streets of Saint Petersburg. Source: Kommersant
One Olympics, it seems, is not quite enough – with preparations underway to hold the 2014 Winter Games in Sochi, St. Petersburg is weighing up a bid to bring the 2024 Summer Games to Russia.
If the northern capital of Russia, Saint Petersburg, is successful, it will add yet another high-profile sporting event to Russia's roster, which already boasts the 2013 Universiade, the 2016 World Hockey Championships and the 2018 FIFA World Cup as well as Sochi 2014. It would also bring the summer showcase back to the country for the first time since Moscow hosted in 1980.
Alexander Zhukov, head of Russia's Olympic Committee, told Around the Rings, the official Olympic news site, that the country believes major events play a vital role in improving the quality of life for all Russians. "Our policy is to have more big championships to promote a healthier style of life in Russia and have more children in different kinds of sports," he said. "That is our aim as an Olympic committee and an Olympic movement."
Old idea
St. Petersburg first considered an Olympic bid four years ago, but there was little support from the government at that time, Moskovskiye Novosti (MN) reported.
Earlier, in 2005, Moscow's bid for the 2012 games was dismissed and there was little will to risk a repeat failure. But the successes of Sochi and the World Cup bids has changed official attitudes, Marat Bariev, of the Olympic Committee, told the newspaper that there was presidential support to bring big events to the country.
However, Bariev added that the plans were still at an early stage and there were potential rival bidders within Russia: Kazan, building on its Universiade development, and Vladivostok, currently gearing towards the APEC summit. And even troubled Dagestan is interested in getting in on the act, though currently the region is looking towards the 2018 student games.
Spin-off benefits
All these major events are regarded as a key driver of infrastructure changes, with the FIFA World Cup prompting a major upgrade of rail services across the country. Provincial airports are also in line for better transport links and the country's sports facilities are in line for a major upgrade – at least in some areas.
The positive spin is that these events make everyday life better, as Dmitry Belousov of the Center for Macroeconomic Analysis and Short-term Forecasting told MN. "The 2014 Olympics helped to solve several problems in the south," he said. "An Olympic-level tournament could also give impetus to development in the troubled Far East."
But others are critical: the Sochi games have angered environmentalists and residents while the pressure is on to ensure that the benefits of 2018 are evenly shared.
Belousov concedes that it is unclear why this long-term planning revolves solely around sport, but adds that this is, at least, better than nothing.
All rights reserved by Rossiyskaya Gazeta.