Afisha picnic becoming a destination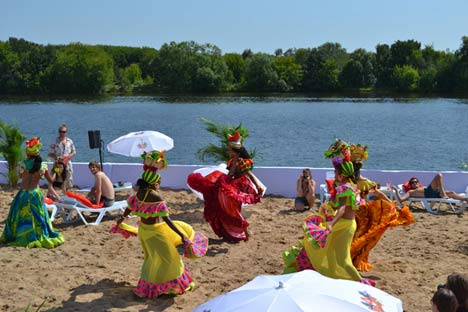 Started in 2003 as a small gathering of friends, this year's music festival attracted 58,000 spectators
All photos by Evgeniya Semenova

On July 23, Moscow's Kolomenskoe Park was the venue of the annual Afisha Picnic, one of Russia's most prestigious Russian open-air festivals.
This year's event, which attracted more than 58,000 spectators, featured the British indie rock bands Kaiser Chiefs and The Wombats along with Russian stars Zemfira, Mumiy Troll and many others. The Russian Bravo group's performance was among the more memorable due to a young man who, in between numbers, climbed onto the stage and proposed to his girlfriend, drawing cheers from the crowd.
Courtney Love, the 47-year-old widow of Kurt Cobain, made her Russian debut at the picnic. Coming onstage with her band Hole with a cigarette between her teeth, after one of the songs she suddenly put on a kokoshnik, a traditional Russian headgear for girls.
Yury Saprykin, one of the Picnic's organizers and chief editor of Slon.ru, had much to say about the jamboree:
"We started eight years ago as a casual party for friends. In 2003, Moscow was nothing like it is today. A chance to be in a comfortable and friendly environment among well-wishing people, to play badminton, lie on the grass and eat something yummy – in short, enjoy an ideal summer day and that without leaving the city limits – was much more rare and more highly prized than today. As time went on, music became a more and more important part of the festival, and the circle of friends grew. As a result, a small subculture festival became the biggest (and best) musical festival in and around Moscow.
We feel that the Picnic has a chance to become big in the world, but only on the condition that Russia becomes attractive and popular in the world; Moscow turns into a tourist-friendly city. Already major musical and festival sites write about the Afisha Picnic, and they include the mouthpiece of indie music, Pitchforkmedia. Flow, an excellent Finnish festival, recommends the Afisha Picnic as one of the best events in July as a 'warm-up' before a trip to Finland. People from the former republics of the Soviet Union flock to the Afisha Picnic in thousands. For example, during Zemfira's concert a couple standing just behind me spoke in very colorful Ukrainian. Whether the Afisha Picnic will make its mark in Europe depends not only on us, but on the visa, transport and hotel situation, which is changing
All rights reserved by Rossiyskaya Gazeta.