Russian immigration law reform: from wholesale to retail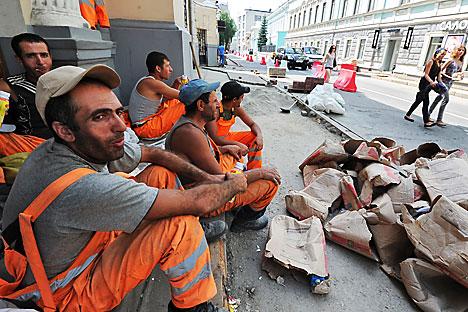 Russia becomes a fastidious host, rigorously selecting its guests. But is this host attractive and hospitable enough?
Like any other country with worrying demographic prospects, Russia needs immigrants. Despite the fact that over the past 20 years, more than 8 million citizens of former Soviet republics have come to Russia looking for jobs, the situation in the labor market remains difficult. The influx of post-Soviet migrants has made up for only two-thirds of the population loss.
The Federal Migration Service (FMS) has called for drastic changes to improve the situation. In March, highly qualified specialists were offered simplified entry into Russia and, in August, the FMS addressed other categories of potential immigrants willing to work in Russia. The latter group is the target of a new immigration policy concept. Its fundamental principle is short and clear: the state must shift from a quantitative approach (annual quotas for immigrants) to making quality its priority.
Highly qualified specialists
Foreigners who meet the qualification to be considered a "highly qualified specialist" enjoy simplified access to Russia. Specialists and their families are permitted to travel throughout the country rather than being tied to a particular city; pay a flat 13 percent income tax year-round, like Russian citizens, instead of 30 percent for part of the year, like other categories of immigrants; and apply for residency permits using a simplified procedure. Specialists are not hired based on the quota system and they do not need to register as immigrants at a local immigration office until they have been in the country for 90 days. Ordinary categories of immigrants are issued work visas for no more than 12 months, whereas highly qualified specialists have multiple-entry visas valid for a maximum of 36 months, which can then be extended for an additional 36 months.
Russia has an annual immigration quota of between 1.7 million and 2 million specialists. According to FMS chief Konstantin Romodanovsky, the quota mechanism "is not the most efficient," as it cannot respond properly to the demands of the labor market. For instance, an application from a potential employer that requires several hundred immigrants may be rejected because the country's immigration quota for the required occupation has already been filled. Although the FMS is thus formally complying with the rules, the employer is left without much-needed workers.
Yevgeny Yakubovsky, of the small business association Opora says that the problem is serious. "The officially approved quotas are only a tenth of the real need," Yakubovsky said.
The existing quotas are expected to be replaced with a points system for assessing potential workers, like the one currently used in France, Germany and Australia, among others. By adopting similar procedures, the Federal Immigration Service hopes to develop a system under which potential immigrants with a comparatively high education level and knowledge of the host country's language, will have a competitive edge. Potential immigrants with relatives in the host country will have an additional advantage, and will be able to obtain not only a work visa, but also all the requisite insurance papers needed to move to Russia with their entire family.
Additionally, foreigners holding temporary residency permits will be able to apply for residence permits after three years in the country, provided they manage to improve their qualifications, learn the Russian language and lease or buy housing. The strategic objective of the concept is to replace temporary immigrants with permanent workers with Russian citizenship.
The Public Chamber has approved the proposal, although many labor experts have severely criticized it. "There are no other mechanisms for us to control the labor market," said Alexei Zhafyarov, who oversees compliance with laws on inter-ethnic relations in the General Prosecutor's Office, "this reform is another move by the state towards giving up immigration policy regulation."
Vyacheslav Postavnin, President of the "Migration XXI Century" fund, also questions the need to change to a new system. "Why introduce points?" he asked. "How are we going to compare applicants? And with whom? The system is efficient for individual cases, but it won't manage with our massive inflows."
But Lidia Grafova, chairperson of the executive committee of the Immigrant Organizations Forum, insists that the change is necessary. "Russia does not attract immigrants anymore," she said. "Even Ukrainians and Moldovans tend to opt for the European labor market now, whereas the preferences of Central Asian workers have shifted towards the United Arab Emirates."
According to Yaroslav Kuzminov, rector of the Higher School of Economics, the essence of the proposed reform is quite simple. "What is the mandatory knowledge of the Russian language and Russian laws? It is a guarantee that these laws will be observed in the future with regard to the immigrant. You are welcome to come to Russia; we are interested in having you not only work here, but also stay. But if you are willing to stay, you will have to get an occupation, make decent money and pay all taxes here," Kuzminov said.
All rights reserved by Rossiyskaya Gazeta.