DST Global invests $400 million in Twitter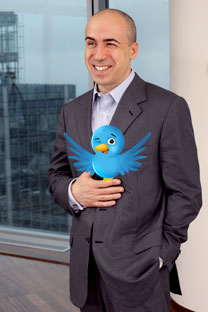 Photo: Kommersant. Montage: Andrey Zaitsev
DST, which already owns part of Facebook and Groupon, expands its U.S. social media holdings in the deal.
DST Global, the investment fund led by Yury Milner, has expanded its social media stable with a $400 million investment in Twitter, according to reports. The deal - in which the U.S. company raised a total of $800 million - values Twitter at $8 billion, according to unnamed sources quoted by Bloomberg.

The financing round is being used to cash out Twitter investors, as the company looks to monetize its short messaging service ahead of a bid to go public, bringing it into competition with other companies in which DST has an interest. The Russian fund holds stakes in Facebook, online gaming site Zynga, and shopping and services site Groupon, all of which have plans to list at some point in the near future.


"We have the opportunity to expand Twitter's reach with a significant round of funding led by the venture firm DST Global, with the participation of several of our existing investors," Twitter said in a blog post on Monday. "We will use these resources to aggressively innovate, hire more great people and invest in international expansion."

Twitter's valuation has more than doubled since December, when it received a $200 million investment led by Kleiner Perkins Caufield & Byers that gave it a $3.7 billion valuation. It was pegged at about $1 billion in 2009, a person familiar with the matter said at the time.


Rachel Bremer, a spokeswoman for Twitter, declined to comment on financials beyond Monday's statement.


Meanwhile, a spokesman for DST Global confirmed the deal but declined to comment on the volume of the funding. However, Milner said in an emailed statement provided by Twitter on Tuesday: "Twitter is one of the few companies that has truly changed the world. Twitter's astonishing growth is a testament to how important it is becoming to more people every day, and why we couldn't pass up the chance to be a bigger part of its future."
All rights reserved by Rossiyskaya Gazeta.