Rusnano's big nanotechnology secrets revealed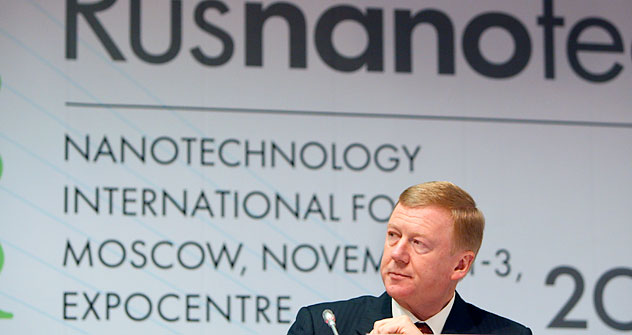 Head of Rusnano Anatoly Chubais. Source: Kommersant
Russia's state-owned nanotechnology company finally gives some information about the projects it is funding and how it determines which projects it takes on.
Until now, very little has been known about what nanotechnology corporation Rusnano actually does. At the St. Petersburg International Economic Forum in June, organization head Anatoly Chubais said that some think it is an investment fund while others believe it is another state corporation used as a cover for divvying up the budget. What does Rusnano actually do? According to Chubais, it not only invests in nanotechnology inventions, but it also helps them become commercial enterprises.
Rusnano's projects by category
Nanomaterials: 44%
Energy efficient technologies: 15%
Pharmaceuticals: 17%
Nanocoatings: 10%
Optics and electronics: 10%
Other: 4%
Rusnano accepts, on average, one in every 20 proposals it receives. All in all, more than 100 projects, picked from over 2,000, are currently under consideration. "I am often told: 'You are difficult to deal with, the selection process is long and very tough, we won't work with you, we'll find another investor,'" said Chubais. "But I think that one in 20 is normal. Besides, unlike any other investor, we not only invest in a project, we follow it through."
In addition to contributing financially towards a project, Rusnano offers assistance in searching for consumers and creating a market for the finished products. The company's other mission is to protect entrepreneurs' ideas from being stolen as well as to protect them against red tape and other potential traps. As a matter of principle, Rusnano refuses to hold a controlling stake in a project and rarely provides more than half the investment share in new enterprises, which must be owned privately, not by the state. It also frequently helps in the search for a creditor or a strategic investor.
Chubais revealed several of the projects already in progress, which are all aimed at high-tech products used mostly in industry.
Instant information transmission
St. Petersburg-based Connector Optics is launching its so-called vertical lasers, which are essential for the production of fiber optics; the company will be the base for high-speed fiber optics production in Russia. The vertical lasers will produce fiber with a capacity of 80 gigabytes per second.
Rusnano by the numbers
Applications for funding: 1,967
Approved applications: 113
Total budget: 381.6 billion rubles
Number of companies submitting applications: 30
Number of regions involved in Rusnano projects: 30
Extra strong springs
An enterprise called Pruzhina (which means 'spring' in Russian) has been launched in the Izhevsk region. As the name suggests, it produces springs, but they are far superior to others currently produced in Russia and come close to meeting European performance standards. The company's products are currently intended for use in railway carriages for Russian Railways, but it plans to expand its range of goods. The springs now used in trains have a lifespan of a few years, but the springs produced by Pruzhina have a lifespan closer to 30 years.
Microchips
This is easily the most ambitious Rusnano project. The 16.5 billion ruble ($592 million) Citronixs-Nano plant being launched outside Moscow is expected to bring in a 12 billion ruble profit by 2015. The plant will produce 90-nanometer chips. Chubais stressed that, although this is not a world record (more sophisticated facilities exist in Europe, the U.S. and Asia), 90 nanometers is the norm for microchips used in most modern electronic devices. This will be the first such enterprise in Russia.
Food preservation
The Danaflex enterprise in Kazan is one of the few Rusnano projects producing goods aimed at the mass consumer. This is a rare technology that, without going into too much detail, is used to produce food packaging. It looks like ordinary cling wrap for vegetables in supermarkets, but there is a difference. Danaflex film has a coating that reduces the amount of air and moisture that can penetrate through the film, helping to preserve the food longer. It is a bit more expensive to produce than other food wraps, but savings are made elsewhere because less preservative is needed in the food itself and, unlike other wraps, it can be recycled easily.
All rights reserved by Rossiyskaya Gazeta.