Moscow exports the metro – to Myanmar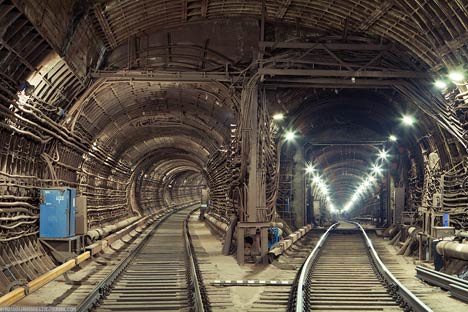 Source: Russos.livejournal.com
Russia is set to build a new metro line – not in Moscow, but in Myanmar. The contract to build the 50-kilometer metro line, reportedly won by a Russian firm, will be built deep underneath Naypyidaw, the new military capital of Myanmar, also known historically as Burma. Voice of Russia radio, which broke the news, cited an unnamed "projects chief architect" who said the metro venture is already at the stage of surveying and designing. The line will be three times longer than Moscow's circle line.
Local projects stalled
Svetlana Vorontsova, who heads Moscow's Transport Infrastructure Institute, said that since Russia's metro projects – particularly in Moscow – are proving slow to get going, plenty of Russian specialists and construction workers would be available to build Myanmar's new metro line. Moscow, St. Petersburg, Kazan and Novosibirsk are all waiting for metro building projects to get under way, she said.
"Those cities have an urgent need for new lines, but city authorities haven't funded them enough," Vorontsova said. "There is a strong need for federal budget and the issue hasn't been resolved yet."
Geopolitical factors
The Democratic Voice of Burma, an independent media organization, is seeing a geopolitical angle to Myanmar's metro project: "Russia has yet to embark on any major infrastructural projects in Burma, where bids for such developments are often quickly snapped up by China," the media outlet said.
International sanctions against the military dictatorship in Myanmar, which has ruled the country since declaring Aung San Suu Kyi's election victory 20 years ago invalid, limit the choices for Burma's government, which is highly depend upon its giant neighbor, China.
Balancing China
Dmitry Mosyakov, who heads the southeastern department of the Russian Academy of Sciences' Institute of Oriental Studies, said that Myanmar was trying to counterbalance Chinese inf luence with the help of Russia.
Sanctions were imposed on Myanmar in 2007 by the United States, the EU, Canada and a group of Pacific countries, including Japan, Australia and New Zealand. The UN also condemned the military junta, which took over in the late 1980s through a coup.
In 2007 the regime put opposition leader Aung San Suu Kyi under house arrest. The subsequent riots and repression led to a constitutional referendum in 2008 and elections two years later, but the military still keeps control through a loyal ruling party.
Western sanctions
Sanctions remain in place, as the West sees the military as still in charge, and reports on human rights abuses are still f looding in from the country.
Clashes with opposition protesters and separatists, who have formed rebel armies in some regions, indicate that the regime is quite unstable, Mosyakov said. This means that security concerns count for a lot, even in something as basic as awarding a contract to build a metro system, he said.
Mosyakov said he doubted Myanmar was ready for a full transition to democracy, due to intense conflicts between the military, the democratic opposition and the separatists.
Deep concerns
There's also the issue of how deep the Naypyidaw metro will be.
Vorontsova said that Russia had been chosen to build the metro due to the similarity between Moscow's deep underground system, built deep to act as a bomb shelter during World War II, and the one Myanmar's paranoid military want in Naypyidaw, which is often dubbed the "hideaway city."
The Democratic Voice of Burma reports that the planned metro system is close "to a vast underground command center on the outskirts of Naypyidaw, which witnesses said was being built to house thousands of personnel."
Vorontsova said that it's Russia's experience, not the speed of Chinese construction, that's important. (China currently builds 6,000 kilometers of new roads per year). "We are talking about a complicated project, which can be started in not less than two years, when all research on the ground is finished," Vorontsova said.
Historical links
Trust in Russia, a historical ally of Burma's, also plays a part, Mosyakov said. "Khrushchev was the first leader who visited Burma when the Way to Socialism, a pro-Communist movement, took over the country," he said.
All rights reserved by Rossiyskaya Gazeta.