Russia and Georgia: Three years since the war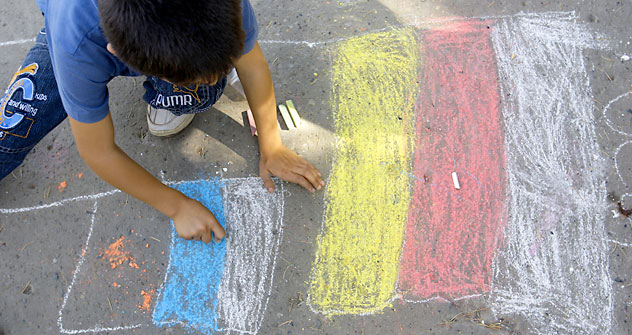 Children painting Russia and South Ossetia flags. Source: AP
Tensions remain in the Caucasus over recognition of Abkhazia and South Ossetia as well as Russia's accession to the WTO.
On Aug. 8, 2008, Georgian troops clashed with Russian soldiers in the city of Tskhinvali, the capital of South Ossetia, thus starting a war that lasted only five days. Today, however, tensions are stronger than ever.
It has already been three years since the war that Russia and Georgia fought over the recognition of independence for Abkhazia and South Ossetia. Governments in both these breakway republics believed they were destined for the same fate as Kosovo, which became independent from Serbia on Feb. 17 that year, achieving recognition by more than 70 countries.
But this was not the case. After their respective declarations of independence, Georgian troops attacked both republics, forcing Russia to intervene in the conflict to defend the local inhabitants, many of whom hold Russian citizenship.
The war ended with Russia's victory, and a few days after fighting stopped, Moscow recognized the independence of both republics, hoping that the rest of the world would follow its example. Unfortunately, only 3 countries have done so: Venezuela, Nicaragua, and the tiny state of Nauru, an island in the Pacific Ocean. These facts caused Georgia to break off relations with the Russian Federation and declare South Ossetia and Abkhazia "occupied territories."
At first, many speculated that South Ossetia would be annexed to the Russian republic of North Ossetia, but authorities of both countries have dismissed this possibility. Russian Prime Minister Vladimir Putin argued that it depends on the will of the South Ossetian people while President Dmitry Medvedev said in a recent interview "there are no legal or factual premises" for that to happen.
Today, Georgia remains a point of tension in the international community. The Russian Government continues to support the citizens of the newly independent republics, while Georgia is strengthening its ties with the United States and intends to be one of the next countries to join NATO.
Recently the United States Senate adopted a resolution condemning Russia for "violating Georgia's territorial integrity and independence." President Medvedev, asked about this fact in a recent interview with the Russian news channel RT in conjunction with the First Caucasian News Channel of Georgia and Ekho Moskvy radio argued: "It is a resolution without foundations; it's a foreign parliament that doesn't affect me in any way, nor do its resolutions represent any interest for Moscow."
In addition, Medvedev said in the interview that if it were up to him, he would call for Georgian President Mikhail Saakashvili to be brought to an international tribunal for violating the rules of international law. However, he recognized the low probability of this because some powerful countries support the Georgian leader.
On the other hand, tensions between the two states have also affected Russia's eventual entry to the World Trade Organization (WTO). Here Georgia has some influence over Russia's ability to finally acceded to the body. According to Russia's President, if the Georgian Government could change its position on this matter, steps would be made to restore economic and diplomatic relations between the two countries.
Sergio G. Caplan is a researcher at the Argentinian Center of International Studies (CAEI)
All rights reserved by Rossiyskaya Gazeta.