A Disneyland in Kaliningrad?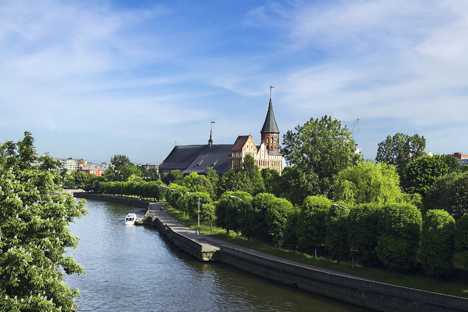 Kaliningrad seems like a perfect place for a Disneyland. Source: Lori/Legion media
Local officials have announced plans to construct a theme park to attract tourists to Russia's European exclave.
The Kaliningrad Region, Russia's outpost in Europe, will be the site of a new Russian Disneyland, according to local officials. Kaliningrad Governor Nikolai Tsukanov has put forward proposals for the biggest theme park in Russia and President Dmitry Medvedev has given the plan his approval. Tsukanov hopes that the new theme park will attract tourists to the region.
Despite its long coastline on the Baltic Sea, Kaliningrad is not a top destination for Russian tourists. Development of the region has not been helped by recent decisions to channel government funds and efforts into creating tourism clusters in other parts of Russia, including the North Caucasus. But Stepan Pavlovsky, a columnist for Voyazh magazine, says that Kaliningrad, the Caucasus, is a suitable location for family travel. "We're talking about entertainment for kids. The leaders of the country are still not so unwise as to put the park in the North Caucasus, where the situation is still not completely stable, even if, as the local authorities claim, the number of insurgents is decreasing every day," Pavolovsky said.
But there are doubts about the economic viability of a "Disneyland" in the Kaliningrad Region. Russia's exclave in Europe is too far away from the most populated parts of Russia, according to Vyacheslav Korol, who is in charge of the Fili Forest Park: "I would suggest the Moscow region as a more suitable location. Then the park would definitely make a profit," Korol said. However, a theme park in the Kaliningrad region would have one indisputable advantage: In addition to Russian tourists, it could also attract foreign tourists from the countries on its borders. In the opinion of Maxim Pristavko, deputy director of the Jet Travel tour company, a theme park in Kaliningrad is an intelligent investment, and it would only need the right marketing campaign to get this project off the ground.
Russia has been trying to build a contemporary theme park to replace the outdated Soviet models. Most Soviet-era amusement parks have been closed down in recent years, mostly due to safety concerns. For example, Moscow's Gorky Park has been turned into an ordinary park, and virtually no special attractions remain. There was talk about building new rides and other attractions in Moscow's Sverdlovsk region, but these ideas never came to fruition.
At present there is only one Disneyland in Europe, outside Paris. There are also Disneylands in Tokyo and Hong Kong and Disneyland Shanghai is expected to open in 2016. All the Disneylands outside the United States belong to local companies, but the local managers need licenses from Disney as well as input from Disney specialists to construct the parks. Governor Tsukanov did not discuss whether the Kaliningrad Region has begun preliminary discussions with Disney on the creation of the possible theme park.
Views of Kaliningrad
Source: lori/legion media
All rights reserved by Rossiyskaya Gazeta.