Somani Group in coal JV with Russian firm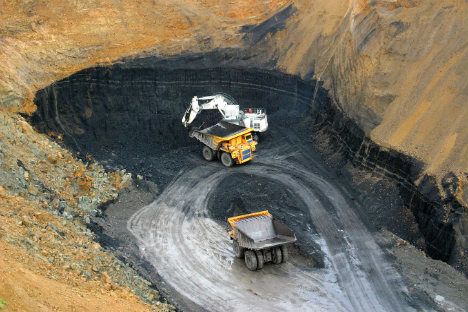 According to a PTI report, the JV, Mechel Somani Carbon, will source coal from Mechel's mines in Russia and other countries and process it in India to give just-in-time delivery as per the requirement.
"The JV is for stockyard operations, where we intend to supply coal to needy industries in Orissa, Chhattisgarh, Jharkhand and Andhra Pradesh among others," Somani Group's President Atul Verma said, adding that the new company will also invest over Rs 100 crore to fund its expansion, including creation of infrastructure for the stockyard, to be built at Vizag.
"We would not like to commit any particular figure," Verma said, when asked about the JV's estimated coal supplies to Indian entities in a year.
He, however, added that the joint venture company will be importing 6 to 8 shipments of coal from Mechel's mines, amounting to about 2,50,000 tonne in a year.
"The idea is to have a stock of about 40,000 tonne in the stockyard at a given time and this will be supplied to small and medium enterprises, who cannot import coal on their own due to high logistics cost. Our venture will be a just-in time delivery of coal for the orders received," Verma said.
The coal reserves of 267 billion tonne in India are the fourth-largest in the world after the US, Russia and China, although coal production at around 400 million tonne, falls short of the demand by 10% annually, he said.
"With huge capacity additions in the sectors like steel, cement and power in the coming years, the demand-supply gap of coal is set to go up further," he said, adding that the new venture will try to grab a significant market share in next 2-3 years.
The Somani Group President added that demand for coal in 2021-22 is projected at 1,353 million tonne against the production assessment at 1,084 million tonne, leaving a shortfall of 269 million tonne.
When asked about the expansion plans of the new company, Verma said that depending upon the success of the new venture, the Somani Group-Mechel combine may also look for setting up similar stockyards at West Coast or at South-west coast of the country.
He added that new company would receive its first shipment in September.
All rights reserved by Rossiyskaya Gazeta.