Huddling with Saakashvili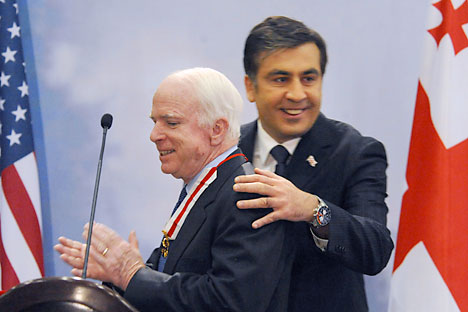 Georgian President Mikhail Saakashvili, right, and U.S. Sen. John McCain. Photo: AP
Three years after Russia's five-day war with Georgia, we are no closer to understanding the role of the United States in the conflict.
The objectives of then-U.S. Secretary of State Condoleeza Rice's July 9, 2008, trip to Georgia still remain a mystery to most of us. The stated goal of the visit was the discussion of the prospects of Georgia joining NATO; Rice also used the opportunity to publicly call for upholding Georgia's "territorial integrity." At the same time, State Department officials insisted that privately, Rice urged Saakashvili not to provoke Russia. If so, Saakashvili's nearly perfect English failed him miserably.
On the eve of the third anniversary of the August 2008 Five-Day War between Russia and Georgia, Russian President Dmitry Medvedev gave an interview to Russian and Georgian journalists covering a broad range of topics, from the events preceding Georgia's assault on South Ossetia to the future of Russian-Georgian relations. The president also reflected on what the U.S. government did or did not know about Georgian president Mikhail Saakashvili's military plans. The interview was a long-awaited articulation of the Russian position vis-à-vis this conflict. Much more needs to be said, but this was a move in the right direction.
President Medvedev also recalled that up until July 2008, he and Saakashvili met regularly and that the latter appeared genuinely interested in finding a negotiated solution to the conflict between Tbilisi and the two breakaway provinces of Abkhazia and South Ossetia. Everything changed after Condoleezza Rice visited Tbilisi: Following his meeting with Rice, Saakashvili abruptly cut off all communications with Moscow.
To be sure, cautious and professional Rice would have never explicitly suggested bringing breakaway republics South Ossetia and Abkhazia back to Georgia's fold by force. Perhaps she reminded him that a country that has no control over one-fifth of its territory can't become a NATO member; restoring Georgia's "territorial integrity" could have been a prerequisite to joining the alliance. The Madam Secretary could have returned home and simply ignored satellite images of Georgian troops concentrating on the border with South Ossetia.
It appears that Rice was not the only high-profiled American to huddle with Saakashvili in the run up to the August war: Three days after Rice's trip to Tbilisi, the Georgian president met with Karl Rove, a confidant of then-U.S. President George W. Bush. This came after multiple calls of support Saakashvili received from then-Republican presidential candidate John McCain, whose foreign policy advisor Randy Scheunemann worked as a paid lobbyist for the Georgian government. Are we to believe that the message that Messrs. Rove and McCain conveyed to Saakashvili was one of patience and restraint? Or was it more along Winston Churchill's famous line: "History is written by the victors?"
Neither Rove nor McCain is legally obliged to disclose the content of their conversations with Saakashvili; both can claim that they spoke to him as private citizens. But Ms. Rice can't: she was in Tbilisi on official mission, and her conversations with Saakashvili must have been properly recorded. If U.S. Congress is really interested in getting to the bottom of things, it would subpoena Rice to testify under the oath, adding the transcripts of her talks with Saakashvili as evidence. In her turn, if Ms. Rice has nothing to hide, she would only welcome the opportunity to highlight the attempts of the Bush administration at preventing the August 8 bloodshed.
Unfortunately, U.S. lawmakers have shown little interest in the facts on the ground: a resent resolution on Georgia unanimously passed by the U.S. Senate on July 29, called Abkhazia and South Ossetia regions of Georgia "occupied by the Russian Federation." It appears that many senators sincerely believe that both territories were forcefully taken away by Russia as a result of the 2008 war. This is simply not true: Abkhazia and South Ossetia won their de facto independence from Tbilisi in 1991-1993 following armed uprising.
The conflict that keeps burning in this part of the South Caucasus is not a conflict between Georgia and Russia, as the Western supporters of Saakashvili would like us to believe; it is a conflict between Georgia and two independent countries, Abkhazia and South Ossetia, that had refused to live under Tbilisi's oppressive rule.
Eugene Ivanov is a Massachusetts-based political commentator who blogs at The Ivanov Report.
All rights reserved by Rossiyskaya Gazeta.