So, do theater and politics mix in Russia?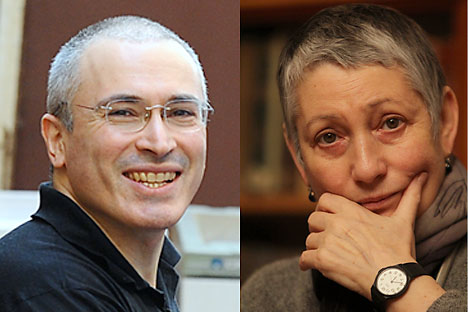 Mikhail Khodorkovsy and Lyudmila Ulitskaya
Jailed businessman Mikhail Khodorkovsy and writer Lyudmila Ulitskaya came together rather like Plato and Socrates to discuss the state of the State of Russia.

No, this was not an unexpected event involving the actual individuals; it was an unexpected event involving actors who played them on a stage. And, yes, it was unexpected.

There are few things Russian theater avoids with more dexterity and conviction than politics. It has almost always been this way.

In the 19th century, plays that pushed too far into political or social commentary were routinely banned. Even after the revolution there was just a short window of time during which directors and writers used theater as a mouthpiece for sociopolitical topics. Those efforts quickly fell by the wayside or turned into propaganda.

Maybe that is why in the highly political 1980s and 1990s, there were only scattered attempts to engage in political theater in Russia. There is a sensation among Russians that politics are dirty and that theater is called, in some way at least, to remain "clean" by not involving itself in politics.

Over the last 15 years, you could approach almost any theater artist and hear a variant of phrases like: "Oh, I pay no attention! That doesn't concern me! I just do my work."

That is changing, however. As the politicization of daily life continues to grow, and as the next presidential election on March 11, 2012, draws ever nearer, the notion of political neutrality is losing respect in the theater community.

The staged reading of a series of letters exchanged by Khodorkovsky and Ulitskaya in 2008 and 2009 is a case in point.

The event, directed by Varvara Faer and hosted by Mikhail Kaluzhsky, was organized by Georg Genoux, the German-born founder of the Joseph Beuys Theater in Moscow. Genoux has repeatedly organized or staged politically-oriented productions in recent years. And while he has been an important force in bringing politics and theater into the same sphere, he is hardly alone.

Playwright Mikhail Durnenkov wrote recently that belonging to the opposition is now "fashionable," whereas it used to be fashionable to not care.

Writing on Facebook, Durnenkov declared that to his "amazement" he realized he had a positive attitude about it. "We have always thought it was 'terrible to be in opposition.' I think the shift of the paradigm from 'terrible' to 'fashionable' is a genuine step towards democracy."

I am reminded of a comment I heard playwright Maksym Kurochkin make in January during a public discussion of contemporary Russian theater at a festival in Austin, Tex. Kurochkin stood up and said that the time has come to embrace socially engaged plays. He pointed out that plays that addressed social issues directly in the late 1980s are now so outdated that they are "impossible" to read. "However," he added, "I have the feeling that the time has come when we must begin writing those plays that no one will be able to read in 20 years."

The reading of the Khodorkovsky-Ulitskaya correspondance at the Joseph Beuys Theater was not a "play," per se. But it was a theatrical and a political event. That is an innovation, but it is one that Moscow theater artists are increasingly trying on for size.
All rights reserved by Rossiyskaya Gazeta.