Don't worry, 5G combat jet still best for India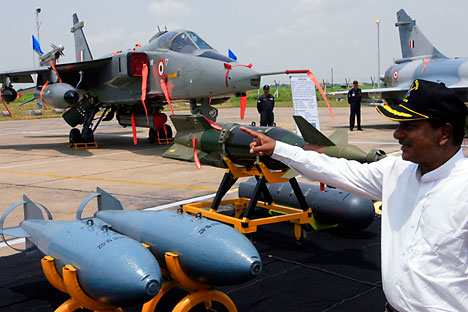 A network of vested interests appears to be floating stories about India looking for alternatives to Indo-Russian 5G fighter combat. It's time to sift fact from fiction: India is set to get 250 5G aircraft on schedule.
Is Delhi losing interest in Russian combat aircraft? The Indian newspapers have been lately replete with a spate of bleak reports suggesting that "the Indian military are looking for alternatives to reinforce the air force in case the joint Russian-Indian programme to develop a fifth generation fighter aircraft falls through."
An article published in The Times of India cited an anonymous source in the country's Ministry of Defence (MoD) saying that the MoD is considering an opportunity to buy an additional 63 medium fighters alongside the 123 it is tendering for a contract for MMRCA (Medium Multi-Role Combat Aircraft). The military have reserved the option in case the deadlines for the two key defence programmes overrun. These include development of the joint Russian-Indian 5G fighter PAK FA (advanced tactical frontline fighter) and launch of serial production of India's Light Combat Aircraft (LCA).
"If the timelines for the Tejas LCA and the stealth Indo-Russian PAK FA projects are not met, we will go for more MMRCA to retain IAF's combat edge," said the article, quoting the source. Notably, the three types of aircraft in question (PAK FA, MMRCA and LCA) actually constitute different aircraft classes and can't be regarded as perfect substitutes for one another for purely technical reasons. The only thing they all have in common is, if anything, the financial interests involved, both on the part of India and other countries.
Incidentally, Russian experts tend to ascribe negative reviews of the Russian aircraft in the Indian mass media precisely to those financial interests. If we look at the structure of India's combat air force, we see that Russian fighters have remained the mainstay of five of India's regional air commands. According to Britain's The Military Balance-2011, the local air force commands 112 MiG-29 and MiG-29UB fighters, 122 Su-30MKI multipurpose fighters, 223 upgraded MiG-21 Bison and MiG-21 bis fighters, 127 MiG-27 ML swing-wing supersonic fighter bombers, and just 52 French Mirage-2000E fighters and 90 training and combat Jaguar IS aircraft.
Not unlike MiG-21 fighters, Jaguars are, to put it mildly, quite obsolete. Dating back to the 1960s, the English-French fighter is of the same age as the MiG-21. At the turn of the century, however, MiG-21 was seriously upgraded and rigged out with Kopyo antenna radar which, as some experts maintain, even brought the fighter more in line with the fourth-generation combat aircraft. While this assertion is debatable, some Indian pilots have nevertheless been able to win mock combat exercises in this highly manoeuvrable and fast fighter, even against the US F-15 and F-16 aircraft. Even so, the fleet certainly needs to be replaced. There have been some disastrous crashes recently. Although they were largely caused by human error and not just technical deterioration of the fighters, the need is obvious.
What is there to replace the aircraft? First and foremost, there is the Russian multi-purpose Su-30MKI fighter, which Delhi has bought from Russia's Irkut and which it is even assembling on the premises of Hindustan Aeronautics Limited (HAL). The Indian Air Force is poised to increase the fleet of these fighters to 350 planes but the command may not even stop at that. They like the fighter a lot: manned by Indian pilots, it has won all mock combat exercises involving its competitors and rivals, including the US F-18, Europe's Typhoon and France's Rafale which, incidentally, were shortlisted in the tender for 126 MMRCA for India's air forces.
Yet, in addition to such a heavy-class fighter as the Su-30MKI and such a medium fighter as the Typhoon or Rafale, India certainly needs a lightweight one, along the lines of the MiG-21 or Jaguar. This spot is to be taken by the LCA Tejas, which India has been developing for many years now. The project was launched in 1985 in collaboration with France's Dassault and the final product emerged, ready to be supplied, in early 2011. It is already being upgraded. Specialists are invoking problems in the development of the Indian engine for the Tejas, which, incidentally, translates from Hindi as "radiant."
Naturally, just like any other highly industrialised country with a measure of self-respect, India wants to obtain a fifth-generation multi-role fighter. It is now developing such an aircraft in conjunction with Russia's Sukhoi on the basis of the existing Russian prototype of the plane, the PAK FA T-50 tactical frontline fighter, which is now being flight-tested in Zhukovsky near Moscow and which will be shown to the public and experts at the MAKS-2011 international air show. The difference is that the Indian aircraft, dubbed FGFA (Fifth Generation Fighter Aircraft), is initially conceived as a two-seater, unlike the single-seater Russian prototype, and will also be fitted out with Indian avionics – like the Su-30MKI.
Sukhoi representatives say the project is on schedule. India has been allocating the funds to run it on a regular basis (according to some reports, roughly $8bn), and it will certainly receive 250 fifth-generation fighters by the deadline. After this, it will be able to produce them domestically.
As for the talk of Delhi "losing interest in Russian combat aircraft" or India searching for "alternatives," some experts tend to link this to certain people within India's air force command, who, just like anywhere, are looking to ensure their future financial standing through large-scale and costly long-term projects. Just as happened with India's Arjun tank: with the project launched in 1972, the tank did not enter into service with India's Land Forces until 2011. But then, no country is prohibited from developing its own high-tech, state-of-the-art, military equipment.
If India is keen to develop its own single-engine, fifth-generation, lightweight fighter, it is free to do so. It is even better positioned for the task, since Indian specialists will receive certain experience and expertise from working on the FGFA together with Sukhoi experts and will be able to modify this to fit their national research and production environment. A fifth-generation aircraft is not just about stealth and high manoeuvrability. It is also about new radio electronics, avionics, airborne radars, powerful new engines, composite materials, missiles and many other things. Any such project will engender numerous concomitant inventions and breakthroughs, which may then be applied outside the aircraft building industry.
All rights reserved by Rossiyskaya Gazeta.