Dreams of a highwire walker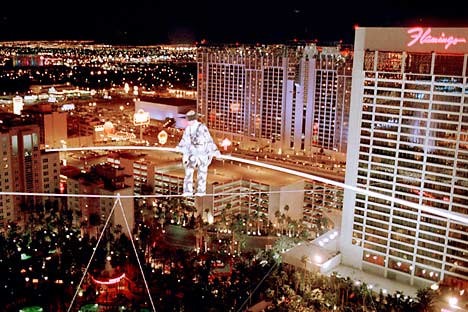 Can a former highwire act in the Moscow circus relive his glory days by crossing the Las Vegas strip by wire?
Some 21 years ago I saw the Moscow Circus for the first in a small town where my parents were living. I was mesmerized by the highwire troupe, since I had never seen a highwire walker before – especially one doing endless tricks. Front somersaults. Backflips. One man carrying two women as he walked – with only a pole for balance – across the thin wire. This was in 1990. I went up to that man during the intermission, determined somehow to keep in contact. That troupe came to our house the following week on their day off.
Last night, Ravil – who was one of the most famous highwire walkers in the touring Moscow Circus – came for dinner. He stayed in Vegas after that North American tour, which lasted from 1988-90, and now speaks English and dreams – two decades on – about walking the wire again. I told him that I miss watching the Russian circus, so we came up with a plan for him to go back to doing what he loves.
We decided to contact Jan Jones, the former mayor of Las Vegas who now is a VP at Ceasar's Entertainment. She has been to Moscow and loves the circus. We are going to see if she can help him get a gig in a nightclub and if their company (this is a long shot) would like to sponsor him to walk across Las Vegas Boulevard. Why not? It would be like the movie "Man on Wire." Ravil has walked between two buildings in Atlantic City, and in Reno, NV, where I first saw him, he walked across the Truckee River. The biggest problem, he said, is not walking. He can walk highwire in his sleep. It's getting all the city permits. But it can be done.
All rights reserved by Rossiyskaya Gazeta.