MiG-29 aircraft production coming to an end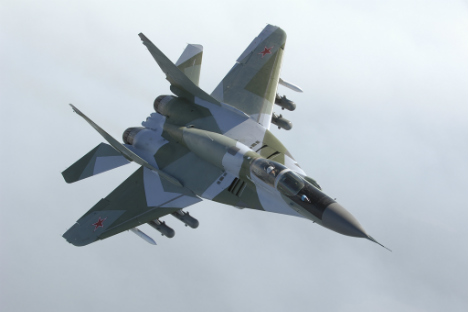 RAC MiG is beginning to wind down production of its "classic" MiG-29 design, as it completes a final batch of the aircraft for Myanmar, Flightglobal reports. The company's plants in Moscow, Nizhny Novgorod and Lukhovitsy will shift to producing the newer MiG-29K/KUB/M1/M2/35 unified platform. The manufacturer showed 24 classic airframes in the final assembly shop at its Moscow factory during a 3 August visit.
The majority were incomplete examples for Myanmar, while two were Indian air force fighters undergoing modernisation to the MiG-29upg configuration. RAC MiG says three aircraft have been delivered to Myanmar, with three more being shipped to the customer and the last due to arrive in 2012.
The nation ordered "about 20 classics, chiefly MiG-29SE single-seaters and a few MiG-29UBs," said Vladimir Barkovsky, chief of the company's engineering centre. The company's production process has been modernised to meet this delivery schedule, with several innovations having cut the lead time to one year.
"We will continue to innovate in our manufacturing methods to increase the [annual] output [of the Moscow plant] from 12 to 24", said general designer – general director Sergey Korotkov. The company's current backlog for the type is five years, he added, noting that some customers "do not want to wait that long for their new airplanes".
Two single-seat and one twin-seat aircraft are already undergoing flight tests at the Zkukovsky aerodrome near Moscow. The upgraded MiG-29upg features a new radar, believed to be the Phazotron Zhuk-ME, plus replacement cockpit displays, a larger ventral fuel tank and the ability to use modern air-launched weapons.
Korotkov said 11 MiG-29K/KUB shipborne fighters have been delivered to the Indian navy, with the remaining aircraft from a 16-aircraft launch order to be handed over by the end of this year.
A follow-on contract for 29 more aircraft was signed earlier this year, with these to be delivered from 2012.
Korotkov said India is "completely satisfied" with the performance of its MiG-29K/KUBs, after racking up more than 1,000 flight hours during operational trials over a one-year period. The Russian navy has also shown interest in the K/KUB model, he said, with an initial order for 12-14 aircraft potentially being signed during this month's MAKS air show in Moscow.
All rights reserved by Rossiyskaya Gazeta.