HAL team in Moscow to assess 5th gen fighter with Russia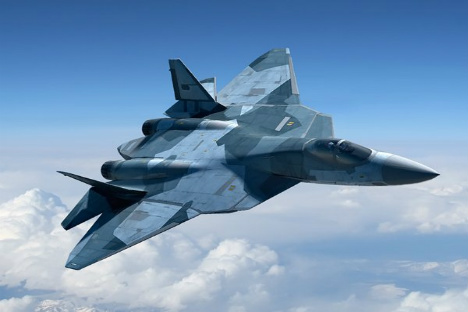 Sukhoi T-50, the base platform of the Fifth Generation Fighter Aircraft (FGFA) which is being jointly developed by India's Hindustan Aeronautics Limited (HAL) and Russia, will make its first public appearance today at the MAKS Air Show in Moscow. The event has caused much excitement at HAL which is sending a delegation to Moscow for the event, reports DNA.
The HAL delegation headed by senior officials who are involved in the FGFA programme will attend the air show to witness Sukhoi T-50's first public flight.
The Bangalore headquartered defence PSU is also among the participants at the MAKS Air Show.
HAL will be developing the FGFA along with Russia's Rosoboronexport and Sukhoi Design Bureau (SDB), the latter being the manufacturers of the Sukhoi-30 MKIs which have substantially improved the strike capability of the Indian Air Force (IAF).
The official website of the MAKS Air Show said that for the first time the T-50 (also known as PAK-FA fighter) would take part in a public flight display. The air show will be held till August 19.
The aircraft, which has already undergone a number of flight tests in Russia since its first flight in January 2010, will have advanced features such as stealth, super cruise, ultra-manoeuvrability, a highly integrated avionics suite, enhanced situational awareness, internal carriage of weapons and Network Centric Warfare capabilities.
The aircraft at the MAKS air show will be a single seat aircraft, but the FGFA being developed for India will be a two-seat version of the Sukhoi T-50.
A total of 500 aircraft will be developed by India and Russia initially with the two countries inducting 250 aircraft each.
The T-50 will be the major attraction in the air show which is expected to be attended by 30 countries, including the USA.
The T-50 will be keenly watched by the Americans as this Indo-Russia joint venture is said to be a global competitor to the US's stealth aircraft - F-22 Raptor and F-35 Lightning II.
Russian International News Agency (RIA) Novosti has reported that the aircraft has been placed on a shortlist of a South Korean tender for the delivery of advanced fighter jets.
The report added that Korea is seeking to buy 60 fighters with advanced stealth capability from "a foreign aircraft maker".
The F-22 Raptor and F-35 Lightning II are said to be the other competitors.
All rights reserved by Rossiyskaya Gazeta.