North Korea to be pacified with gas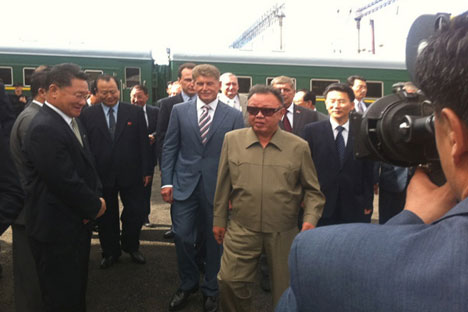 North Korean leader Kim Jong-Il (2-nd R) walks along the station of Novobureisky on August 21, 2011. Source: RIA Novosti
Gazprom is ready to become involved in resolving North Korea's nuclear problem.

Gas talks in Ulan-Ude

The fact that the chairman of the National Defense Commission of the DPRK began his visit to Russia was reported on August, 20 by the Russian president's press service. Information about the visit appeared on the Kremlin's website shortly after the armored train of the overly-concerned-for-personal-security Kim Jong Il crossed the border between the DPRK and Russia, heading to the capital of Buryatia, Ulan-Ude.


As was previously reported by Kommersant, Kim Jong Il had initially planned on visiting Russia in June. President Dmitry Medvedev was then inspecting construction sites for the upcoming APEC summit in Vladivostok, and had the opportunity to speak with his North Korean colleague. However, the meeting was canceled at the last minute at Pyongyang's request – Kommersant's sources in the Kremlin said that Kim Jong Il was concerned about the leakage of information about his visit in the South Korean press.

Nevertheless, the desire to speak with Medvedev overcame the fears of the 70-year-old leader. According to Kommersant's sources familiar with the preparations for the visit, that is not surprising, considering the scale of the projects which Kim Jong Il hopes to agree upon with the Russian president. The main one should be the construction of a gas pipeline with annual capacity of 10 billion cubic meters of gas from Russia through North Korean territory to South Korea.
­
A question of politics and economy

The idea to create the pipeline was first discussed between Moscow and Seoul under Vladimir Putin's presidency. Talks continued under Medvedev. In September 2008, Gazprom and South Korea's Kogas signed a memorandum of mutual understanding, and in June 2009, Aleksey Miller and Kogas President Chu Kang-Soo signed an agreement on a joint study of the project for delivery of gas to South Korea from the end point of the Sakhalin-Khabarovsk-Vladivostok pipeline.

In recent months, negotiations have intensified dramatically. Whereas previously Gazprom spoke exclusively with Seoul, this year the company launched a dialogue with Pyongyang as well. On June 28, the Gazprom headquarters were visited by the North Korean ambassador to Moscow, Kim Yong Jae, who met with Miller. Then, between July 4 and July 6, Pyongyang was visited by a delegation headed by Gazprom's deputy chairman, Aleksandr Ananenkov, which was hosted by North Korea's oil industry minister, Kim Hui Yong, and Deputy Prime Minister Kang Sok-Chu. And on August 5, Ananenkov held talks with the head of Kogas in Vladivostok, where he announced that the companies will soon sign a road map for the supply of Russian gas to South Korea.

"Consultations on the pipeline have been fairly concrete," said Russian Foreign Affairs Minister Sergey Lavrov on August 8, after speaking with his South Korean counterpart, Kim Sung-Hwan, in Moscow.

According to Kommersant's diplomatic sources familiar with the negotiations, for Moscow the construction of a gas pipeline through North Korea is not only an economic but also a political goal.

"During his talks with South Korea's foreign affairs minister in Moscow, Sergey Lavrov formulated this goal in the spirit of the idea that the construction of this pipeline will make a significant contribution to strengthening of security in East Asia," said Kommersant's source.

According to another source, Moscow expects that the pipeline through North Korea will first allow the country to meet its energy needs, and second give Pyongyang a source of revenue (transit payments), thus making the regime more interested in stability. The same role is expected to be played by the installation of power lines along the same route and a potential unification of the Korean railways with the Trans-Siberian Railway.

"Certainly this is more of a political than a commercial project. For Moscow, it will be an attempt to resolve one of the longstanding conflicts near its borders, and this attempt is quite ambitious," said Fyodor Lukyanov, editor-in-chief of the Russia in Global Affairs journal. "Discussions regarding the North Korean nuclear problem have long come to a standstill. Meanwhile, this project could change the entire model of attitude toward Pyongyang and engage it in an integration process. This is not a model when a bag of rice is offered for abandoning the nuclear program; instead, it is gas and transit revenues."

According to the expert, both Pyongyang and Seoul may be interested in seeing Moscow's proposal succeed: Russia, unlike other mediators in the Six-Party Talks (US, China, Japan) is positively perceived in both Koreas.

South Korea is also interested in the Russian project both politically and commercially.

"Korea would prefer pipeline gas supplies. First, it's cheaper. Second, implementation of a pipeline project would help improve relations with North Korea," South Korea's ambassador to Russia, Lee Yun-ho, said in a recent interview with Kommersant.

According to Kommersant's source close to Kogas, estimates show that the prime cost of pipeline gas from Sakhalin is two to three times lower than liquefied natural gas (LNG) supplies.

"Pipeline gas, if pricing is transparent, could be cheaper than the LNG," agreed the head of East European gas analysis, Mikhail Korchemkin.
­
A problematic project

However, experts have some serious doubts regarding the feasibility of Russia's proposals. "South Korea's industry is focused on LNG," said Pavel Leshakov, director of the International Center for Korean Studies at Moscow State University. "Pipeline gas will entail additional costs for creation of infrastructure for its consumption inside the country."

According to Korchemkin, the project may be unbeneficial for South Korea due to Gazprom's high spending on pipeline construction. He cites the 1,836-kilometer pipeline fro Sakhalin to Vladivostok as an example where Gazprom will spend 467 billion rubles, or $8.7 million, per one kilometer of pipeline.

However, the main risks are associated with the unpredictability of the North Korean regime. Doubts regarding the implementation of the Kremlin's project are being expressed by Kommersant's sources in Gazprom as well as in the Russian government. "Pipeline construction through the DPRK is outside of the realm of reality," said a high-ranking source in Russia's White House.

"The options of LNG supply from a plant, which we will build near Vladivostok with Japanese investors, are a lot more realistic," state a Gazprom manager.

Experts second these assessments. "The political risks are too high," argued Leshakov. Korchemkin added that the project could hardly be implemented even if the DPRK provides solid guarantees, and especially because such guarantees have not yet been made.

Kommersant's source close to Kogas noted that Moscow has not told Seoul about any positive results from Gazprom's trip to the DPRK, either through diplomatic or corporate channels. "We cannot exclude the possibility that the entire saga of pipeline construction through the DPRK to South Korea is simply Russia's attempt to put pressure on China, gas negotiations with which have come to a dead end," concluded Komemrsant's source in the South Korean government.
All rights reserved by Rossiyskaya Gazeta.