Only the glamorous survive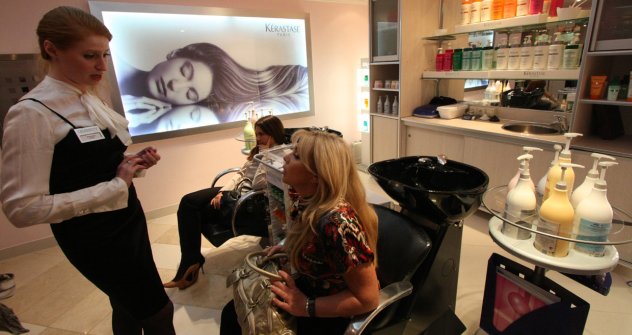 Moscow has more than 6,000 beauty salons and the market segment is saturated - yet more salons open every day.
According to Russian search engine Yandex.ru, there are more than 6,000 beauty salons in Moscow. Although the figure remains more or less constant, the composition of the market is changing all the time, with dozens of new beauty shops opening and about as many shutting down every month, said Yana Komarova, manager and co-owner of a network of deluxe beauty salons. The reason, Komarova explained, is the fierce competition in this market segment over the past several years.
The supply has long outstripped the demand for beauty services in Moscow, and in order for a salon to survive, just being good isn't enough – it has to compete with the best.
"People are no longer content with good equipment and fashionable cosmetics offered by the beauty shop," said Komarova. "To have a constant flow of clients, one has to invest in interior decorations and experiment with cutting-edge designs. The spa salons that have mushroomed in the capital recently look rather like oriental palaces, decorated with gold and marble. Muscovites like it, they prefer such places."
Komarova knows how to launch an upscale salon – and make sure it survives. In July 2010, her beauty salon decided to expand to two more sites and become a full-fledged chain of shops. The premises for the new shops had to be located in the city center, at the intersection of places people went for both business and pleasure. "If you have a high-end beauty salon, it makes no sense to look for premises outside the city center, as your clients will simply not go there," Komarova said. "A fashionable location is the first ingredient of success." That ingredient costs Komarova's new spas about $10,500 a month in rent for 140 square meters (1,500 square feet) of space.
The next ingredient is high-quality interior design. A top Moscow designer was invited to develop the concept for the new salons; only European equipment and only the most fashionable, cutting-edge cosmetics wer used. The main principle is not to try to save on costs, but to spend what it takes to lay on more glamour.
And it is not enough simply to enter the market; you have to trumpet your presence. Outdoor advertising, advertisements in glossy magazines, advertising pamphlets distributed in neighborhood cafés, bars and restaurants, major PR events, parties for journalists, clients and party-goers are all essential to launching a new beauty salon in the center of Moscow.
Yet these efforts are not guaranteed to deliver results to beauty shop owners. Of the two shops Komarova opened last year, only one is paying its way: it earns $1,500 a day, a sum that is barely enough to pay the rent and staff wages and buy new cosmetics. To recoup the money invested and start turning a profit would take at least two years, Yana Komarova reckons.
Photos by Ekaterina Frolova
In dealing with the tough competition, inflated expectations and finicky clients, Moscow beauty salon owners often feel they are running as fast as they can to stay in the same place. Even so, most business people in this segment believe that it is realistic to make a profit –provided you understand the difference between a thalasso therapist and a hairdresser. Investors and enthusiasts who have strayed into the beauty economy by chance will have a hard time adapting.
"The question as to whether or not to invest in the Moscow beauty shop industry hinges on the rate of profit and the greed of every individual investor, who has to decide whether to invest in securities, development or the opening of a spa salon," said Vadim Zhuk, who owns a major Moscow construction company. "Spa salons are the least profitable of the above-mentioned investments. One has to wait four, five or even six years for a new beauty shop to recoup investments, so these are hardly good investments compared with the property market, where the payback period is three years. Nor are spa centers very attractive in terms of profitability: The average profitability of even a good spa salon will be around 2-5 percent. In other words, it is not an interesting market for an investor who is trying to make a quick buck. Yet it might turn out to be a good startup for professionals in the field who are keen on building a career."
Even so, the spa industry is not without its appeal: the market is far more transparent than construction or real estate sales, it requires less official regulation than the restaurant business, and leaves a lot of room for the imagination. In fact, letting the imagination run wild is one of the chief ingredients for success in the industry. Worth mentioning among the recent trends in the beauty industry are some spa services for children and teenagers, from manicures to haircutting to weaving tricky African plaits, as well as the men-only spa centre. Some may think this is a little over the top – but not for the owners of beauty shops, who are ready to try anything to gain a niche on the capital's beauty market.
All rights reserved by Rossiyskaya Gazeta.