Cafe Pushkin to open in New York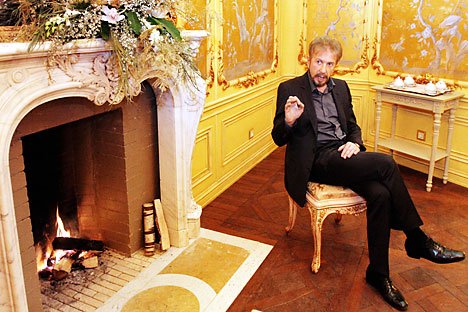 Russian restaurateur Andrei Dellos. Source: ITAR-TASS
Restauranteur Andrei Dellos believes New Yorkers are ready for his unique brand of cuisine and presentation.
Andrei Dellos, one of Russia's best-known restaurateurs, has decided to bring his unique, grand, old-world style to America.
"I don't know how I can shock the Moscow public, so I decided to go West," Dellos said, explaining the reasoning behind his decision to set up shop in New York.
In Russia, Dellos has built up a solid reputation for custom-made projects, including Café Pushkin, which features upscale version of Russian classics and is the only Russian restaurant to make the Financial Times list of the 25 top restaurants in Europe; Shinok, which serves Ukrainian food in a recreated Ukrainian farmhouse, and the palatial Turandot, which specializes in Chinese cuisine.
An artist and restorer by training, Dellos treats his restaurants as veritable museums, scrupulously recreating the atmosphere of the past through authentic décor and genuine period recipes. Dellos provides special training for waiters in how to conduct themselves in accordance with the etiquette of pre-revolutionary Russia.
This year, Dellos plans to open two brasseries and launch a confectionary factory on the outskirts of New York. The brasseries will be tailored specifically to the New York market, with a simplified menu that still adheres to 19th century traditions. The Brasseries Pushkin will also have a patisserie at the entrance.
The opening of the brasseries, scheduled for this winter, will be a litmus test of public taste. "There are certainly no analogues to what we have conceived in New York; we have seen all the Russian restaurants here," Dellos said. He divides Russian restaurants in America into two types: holes-in-the-wall opened by émigrés and Russian restaurants opened by Americans that have nothing to do with Russian cuisine.
"Russian restaurateurs abroad have repeated the fate of Russian ballet," said Dellos. "Having lost their ties with Russia, they changed irrevocably. Today we offer the West genuine, classical Russian recipes."
This attitude may be why Dellos is not deterred by the fact that one of the locations he has rented for a brasserie is on 57th Street, next door to the famous Russian Tea Room.
The Dellos team has been working in New York for several months now and is at the stage of finding chefs and choosing suppliers. In Moscow, Dellos's restaurants mainly work with farms but, in an unfamiliar market, he prefers to follow the advice of professionals. So in addition to the advice of Russian chef Andrei Makhov and his five assistants, Dellos is asking some American advisers to look for potential chefs and study the market.
"We will look for chefs on the local market, which will make it much easier to lure clients, because the local chef knows all the nuances of the restaurant business, the clients' tastes and the local conditions," said Dellos.
If the Brasserie Pushkin project gets off to a good start, Dellos will open three or four brasseries and, in early 2012, New York will get its own Café Pushkin gourmet restaurant.
"The project is very original for this market and it's likely that the restaurant will be interesting to consumers," said Maxim Klyagin, an analyst at the Finam Management Company. "The market in New York City is capital-intensive, but despite a high level of competition, new restaurants that find their niche can always count on positive results."
Dellos is financing the American project by himself; he estimates that opening the first two brasseries will cost about $2 million, not including advisers' fees.
With luck, Dellos says, he will make back his investment in the first 18 months; with average demand, it will take between three and four years. Dellos would like to expand into other major American cities, but it all depends on New York.
"We are only interested in opening restaurants abroad if they are hugely successful," Dellos concluded.
All rights reserved by Rossiyskaya Gazeta.