Sharapova, Williams, take the courts at U.S. Open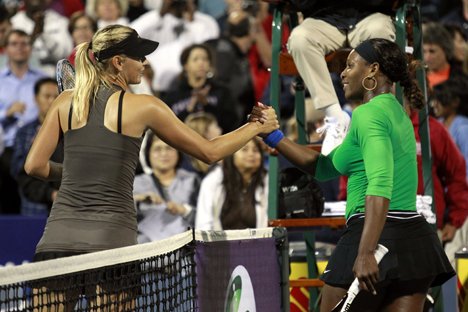 Source: Reuters / Vostock Photo
While neither Maria Sharapova or Serena Williams are at the top of the rankings, they both are dangerous competitors on hard courts.
When the U.S. Open begins in Flushing Meadows, New York, on Aug. 29, all eyes will be on Maria Sharapova and Serena Williams. Both are accomplished hard court players, and they are likely to be tough competitors in this year's event.
The 2011 tournament offers a new shot at glory for both Russia and the United States. Russia now claims 13 of the world's top 100 female players, and although the United States is still looking for successors to the Williams sisters, Serena is finally back in top form.
After a big-toe injury and a pulmonary embolism that put her life in danger in March, Williams has been working out with a new trainer and won a tournament at Stanford. There she defeated Sharapova in the quarterfinals. With 13 Grand Slam tournament titles already under her belt, the champion from Los Angeles now wants to take top honors at Flushing Meadows to solidify her return.
Sharapova is considered the only one that can defeat Williams on the tennis court. She is seeded third in the tournament, to Williams' 28, but Williams remains a powerful player.
But the Russian has already beaten her rival in one important measure – earnings. For the seventh year in a row, Sharapova is the highest-earning player on the WTA circuit, with annual earnings totalling more than $25 million. According to a survey published by the website Sportspromedia.com, Sharapova is the female tennis player most desired by sponsors and multinational corporations. Fifty-nine percent of relevant companies said they would choose to have an endorsement deal with her.
Her portfolio already includes commercial agreements with Clear, Cole Haan, Evian, Head, Tiffany & Co and Tag Heuer, in addition to an 8-year, $100 million contract with Nike. Companies post offers for their products on Sharapova's official Facebook page.
Serena Williams, for her part, is third in the earnings rankings, thanks in part to her own deal with Nike. But many experts expect Chinese player Li Na, currently the world's second-highest earner, to overtake Sharapova in 2012. Her surprise win at the French Open in 2012 gave her some cache among China's increasingly savvy consumers.
All rights reserved by Rossiyskaya Gazeta.