Will Visa Problems Become a Thing of the Past?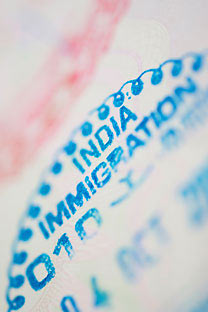 Source: Alamy LegionMedia
The release of a Russian tourist who spent a year in a Goa prison for overstaying his visa coincides with the introduction of a Russia–India visa regime simplification bill before the State Duma.
Russian tourist Ilya Rusanov, who had been sentenced to a year in a Goa prison for overstaying his visa, was released several days ago. His arrest came during a period when the visa regime between Russia and India, which went into effect on 1 February 2010, was particularly strict. Indian visas were restricted to 55 days, whereas before that double- or even multi-entry six-month visas were the norm. It was particularly hard for professional journalists to obtain tourist visas. They were granted entry for one month at most, and only after a thorough review of their complete applications.
Ilya Rusanov was far from the only Russian to have breached India's immigration rules; statistics show that some 1.7% of Russian citizens have overstayed their visas. However, only two were singled out for such harsh treatment. The other tourist, Aleksandr Solomein, wound up behind bars shortly before Rusanov. Those events triggered a sharp response from the Russian embassy in India. Russian diplomats expressed concern over the sentences handed down by Goa courts and asked Indian authorities for leniency towards Russians who violated India's visa rules.
Rusanov, 38, a resident of Moscow, was initially sentenced to one year in prison and a fine of 10,000 rupees, payable within one month. After he failed to pay the fine on time, his detention was extended for another year. In 2011, Rusanov appealed the one-month deadline for the fine payment. A judge repealed the original ruling and allowed Rusanov, who had already spent a year in prison, to pay the fine and walk free.
The ex-con expects to have all the documents he needs to leave India within a month. "After a year in prison, the thing I want to see the most is night, because lights were on 24/7 in my cell," Rusanov said.
Business people, tour operators, and ordinary citizens of both countries have been calling for the simplification of mutual visa arrangements for a long time. A visit to India by Russian President Dmitry Medvedev last December marked an important step in this direction. A reciprocal agreement to ease visa requirements for students and business people was signed at that time.
The Indian side has taken substantive steps following the arrival in Moscow of its new ambassador, Mr. Ajai Malhotra. Under the new rules, tourist visas to India will be processed within three business days and will be valid for six months for three or multiple entries. A multi-entry business visa will take the same time to process. Individuals and organisations can apply for visas directly, and citizens of both countries will be able to obtain multi-entry visas valid for up to five years.
And on 16 August, the Russian government introduced for ratification by the State Duma an agreement between Russia and India on reciprocal simplification of travel for certain categories of citizens of both countries. If ratified, the agreement will simplify visa requirements for tourists, as well as for entrepreneurs, scientists, cultural workers, and students. The key point of the agreement is simplifying the procedure for issuing visas for entry, transit, exit, and stay in each country's territory for up to 90 days per each period of 180 days. The agreement allows individuals and organisations to apply for visas directly, and citizens of both countries will be able to obtain multi-entry visas valid for up to five years subject to certain conditions.
Drafters of the agreement point out that it is intended to strengthen the contractual and legal base of Russian-Indian relations pertaining to reciprocal visits by their respective citizens. It will also create optimal conditions to simplify travel between the two countries and make life easier for business people, scientists, cultural workers, students, and tourists.
To ensure tourists' security, both countries have promised to create a special tourist police force to deal with requests and complaints regarding law and order, medical assistance, and visas.
All rights reserved by Rossiyskaya Gazeta.