Russo-British cooperation: a new dawn?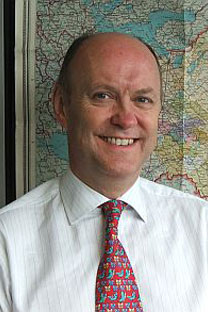 Stephen Dalziel is Executive Director of the Russo-British Chamber of Commerce.
The potential for more collaboration between Britain and Russia in business is huge... if only there were a little less bureaucracy and a bit more awareness.
British Prime Minister David Cameron's visit to Moscow in September will be the first official visit by a leader of the UK government in five years. But the mere fact that the visit is taking place is not enough to declare the opening of a new chapter in Russo-British relations. There will need to be some concrete results which indicate a real improvement, or else this will be little more than a box-ticking exercise.
Relations between our two countries had cooled after the apparent warmth generated by the state visit to London by then-Russian President, Vladimir Putin, in June 2003. The British prime minister at the time, Tony Blair, began to have doubts about the relationship after his advisors raised questions about Mr. Putin's democratic credentials and Russia's human rights' record.
The political relationship went into deep freeze after the murder in London in November 2006 of Alexander Litvinenko. Business relations suffered, too, as the British government insisted on the extradition of those they accused of the murder and the Russians stood by the country's constitution, which does not allow such a move to a country with which there is no extradition treaty.
With two such intransigent positions, something had to be done to break the deadlock. Business held the key. In November 2008, Peter Mandelson, in his capacity as Business Secretary, visited Moscow to re-start the dialogue of the Russo-British Intergovernmental Steering Committee (ISC), a bilateral group organized by the government, but with the aim of improving business relations between Britain and Russia.
After a modest start, the scope of the work of the ISC has increased over the last two years, with annual meetings alternately in London and Moscow. The next in the series is expected in London in November. The committee has identified areas of cooperation between Britain and Russia, notably financial services; hi-tech and nano-technology; energy efficiency; the Olympic legacy; small-and-medium-sized businesses (SMEs); and the overall business environment. But while discussion of these subjects continues at the annual meetings and the smaller interim meetings, business is frustrated by the lack of any significant progress in terms of practical steps being taken.
For example, in the SME strand, issues of concern to UK businesses have been raised, such as product standards, customs procedures and filing procedures with Companies House in London. "Standardize standards!" has been the cry from UK manufacturers. In other words, if a UK company is already producing goods to UK, European and world standards, why should they have to spend more time and money proving to the Russian side that their products are good enough for Russia? Too many firms spend too much time with their goods sitting on the Russian border, because of the red tape of Russian customs regulations. And, in London, Companies House should be more aware of the problems of filing details involving Russian companies, rather than rushing to impose penalties for overdue filing.
So while the fact that the ISC is meeting regularly again for the first time since the early years of the century is encouraging, there is still some frustration that it remains dominated by government and, thus, bureaucracy. Give business what it needs in terms of changes in legislation to ease procedures and business will look after itself. The majority of these changes should come from the Russian side. Russian business people themselves are often frustrated by bureaucratic processes that are still left over from Soviet times. But when British businessmen come up against this, it is in many cases simply easier to decide to do business elsewhere in new markets – Brazil, India and China are obvious examples – than beginning the battle with red tape.
This is a great pity, since the vast majority of British businesspeople dealing with Russia are not merely satisfied with the business they do; they enjoy the experience and make good profits.
Mr. Cameron would do well to pay close attention to one aspect of Anglo-Russian business relations which has great prospects for the future if given proper support: One area where Britain is particularly strong is in financial services. Many foreign companies, among them a large number of Russian companies, chose to list on the London Stock Exchange ahead of other international options. There have been serious developments in the past six months in the plans to develop Moscow as an international financial center (IFC). Where better to look for a partner in this than the experience in the City of London?
Significant progress towards this goal was made when the Lord Mayor of the City of London, Alderman Michael Bear, visited Russia in June. The City does not see Moscow's development as an IFC as a threat to its own position and much can be gained on both sides by cooperation. But the City cannot afford to be complacent. Other international centres are also courting Moscow, and it is not enough for the City simply to believe that it is the best for Moscow to enter into a significant partnership. The City has to prove its case; and Mr Cameron ought to underline this in his visit.
The current British government has made much of the fact that it sees the encouragement of sound business and trade relations as an important element in Britain's foreign policy. There is much in British business practice not only to be admired but which can be used as an example in a market economy as young as Russia's still is. It is expected that there will be a significant business delegation with the Prime Minister in Moscow. If Mr Cameron shows that they are there not simply for decoration, but to play an active part in the discussions about the future of affairs between Britain and Russia, then this visit may indeed signal a fresh start in bilateral relations.
Stephen Dalziel is Executive Director of the Russo-British Chamber of Commerce.
All rights reserved by Rossiyskaya Gazeta.