Moscow markets not immune to the global panic bug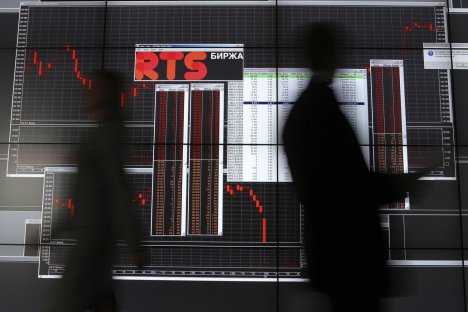 Taking the plunge: the RTS dollar index fell by 18pc. Source: Getty Images / Fotobank
The Russian equities market lost everything it had gained over a year this month as investors sought security 
in cash and bonds.
Alongside world stock exchanges, the Russian stock market has lost, on average, one-sixth of its capitalisation since the beginning of 
August. By August 25, the RTS dollar index had dropped by 18pc, and the Micex index, denominated in roubles, by 15pc.

"The Russian market has now stabilised," according to Evgeny Osin, chief economist with the Finam managing company. He expects it to rebound late in the third quarter or perhaps the fourth quarter of 2011.

The slump on the Russian stock market was triggered by Standard & Poor's downgrading the US credit rating. Micex and RTS beat the 2008 record daily falls by 5.33pc and 7.56pc respectively. The market bounced back 6pc between August 10 and 17, before plunging again.

"Everything was plunging: it was Gazprom one day, Sberbank the next and Uralkali the day after", says Andrey Kukk, Uralsib's chief trader. The main reason was that investors were shedding assets marked as risky in their portfolios – shares, that is – and moving them into the dollar and bonds with lower, but presumably 
guaranteed, yields.

Simultaneously, the markets have moved into a period of greater instability, with daily Micex fluctuations reaching 8pc. This has prompted experts to compare these leaps to the volatility of the market in 2008. Mr Kukk attributes the wild fluctuations to speculative investors. "Every spike has been initiated by short positions on any good piece of news from any country," he says.

Institutional investors risk less, trying not to lose anything. This will continue, he thinks, "until market players make up their minds about whether they are included in the current share prices".

According to Mr Kukk, four main factors influence investors on the Russian stock market: "Fear of sliding into a second wave of global recession; fear of a worsening debt crisis in Europe; instability on the currency and commodity markets, and geopolitical instability."

Mr Osin points to one more factor: media reports with 
"a deliberately negative macro-economic and financial character that were reflected in the business climate indicators and investor mood on the market."

Mr Kukk says investors should rethink risk assessment: "What we see is a debt crisis, while investors move from shares to bonds, which is a paradox." Some market players think the stock market is on the way to a slow recovery. Big investment banks have accumulated lots of money in their accounts, notes Pavel Dorodnikov, head of trading with Rye, Man & Gor Securities – but are not doing anything with it.

The policy of the US and European regulators remains committed to supporting economic demand recovery, which implies rising share prices, including in Russia, Mr Osin points out.

"The recovery may be rapid, considering that the EU and US have managed to resolve the situation, although it may have involved market shocks," he says.

Analysts with the Alfa-Capital investment company think current Russian share prices are attractive for long-term positions. Mr Osin agrees: "Today, against the background of a stabilising market, we see a certain very gradual increase in the number of those wishing to open a long position."

So far, investors have no pointers in this country or abroad and many volatile days may lie ahead. Alexey Dolgikh, vice-president of Troika Dialog, says: "There is still a lot of uncertainty. Big investors are confused and are sitting on cash. 
So, there will be a lot of volatility; the market is emotional, but we do not expect a slump."
All rights reserved by Rossiyskaya Gazeta.