India-Tajikistan bilateral relationship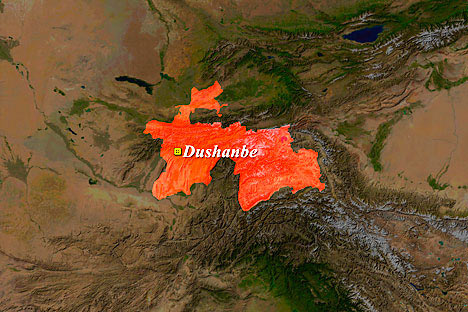 Source: Alamy LegionMedia
The five landlocked Central Asian countries, the former USSR republics, - Uzbekistan, Kazakhstan, Kyrgyzstan, Tajikistan and Turkmenistan - are in India's extended neighborhood and occupy a special place in India's foreign policy priorities.
Tajikistan has the closest geographic proximity to India. It is separated from the Indian sub-continent by the Wakhan Corridor [Afghanistan], which is 200 kilometers long varying from only 16 to 65 kilometers in width. Tajikistan is a Persian speaking country; its population estimated by seven million is quite young. The country has the largest natural water resources in the region. Unlike other four Republics, exploitation of Tajikistan's modest fossil fuel and natural gas resources are currently not economically viable.
India-Tajikistan relations are cordial and friendly. Former Prime Minister of India Atal Bihari Vajpayee visited Tajikistan in November 2003. After his visit President of Tajikistan President Rahmon paid a visit to India in August 2006. India's President Pratibha Patil visited Tajikistan on 23rd September 2009. After these high level visits India and Tajikistan became more comprehensive partners in the region. Both sides agreed to jointly combat terrorism, expand defense cooperation as both the countries share close defense and security relations
At present, India-Tajikistan bilateral relations are based on mutual respect, convergence of interests and similarity of views. Moreover, India and Tajikistan does not have any differences on any particular issue, which needs to be resolved. Tajikistan has consistently extended support to India in the United Nations and in various UN forums. On the Jammu & Kashmir issue, Tajikistan holds the view that, it is a bilateral dispute and may be resolved amicably by India and Pakistan.
India has upgraded the Aini airport near Dushanbe, which is fully operational now and identified other strategic areas of cooperation including building of highway. This highway would give Tajikistan a link and access to Chabahar port in Iran via Afghanistan. The highway from Chabahar will pass through Afghanistan to Tajikistan. The connecting route will be Chabahar-Kabul-Kunduz-Badakhshan, which will enable India to have a transport corridor to the Central Asian region.
Another significant area of cooperation between the two countries is to fight against terrorism and drugs trafficking. Both the countries have together fought against the Taliban and there is already a joint working group on counter terrorism activities.
India-Tajikistan Defense Cooperation covers a wide spectrum of issues notably, sharing of information, material support and joint exercises. India also extends assistance to Tajikistan to raise and build an effective air force. The Aini facility thus is the first home to Tajikistan's air force. In addition, India has gifted military uniform for two brigades, aviation suits, computers, language training material, military jeeps and trucks and two Mi-8 helicopters along with spare parts and consumables. As a component of officers training, batches of young military cadets from Tajikistan regularly receive training at the National Defense Academy (NDA) at Khadakwasla, since 1998.
Besides, the Tajik Ministry of Defense received a grant of US$ 0.5 million to renovate and upgrade the Tajik Military Institute in Dushanbe. Tajikistan does not have an army that could guarantee its territorial integrity and is also not in a position to establish a well-trained standing army, as its economy is unable to finance and support their needs. Though Tajikistan spends around 3.5% of its GDP on defense and security, the sum of US$ 35 million per annum is too little for the defense of the country. Tajikistan's standing army is made up of conscripts and the size of the army is dependent on the conscription. Tajikistan, in addition, also needs air arms that could extend aerial support for its ground forces where India can cooperate. India may expand the bilateral defense cooperation to help Tajikistan establish a professional army.
Tajikistan is one of the largest beneficiaries of India's ITEC (Indian Technical and Economic Cooperation) programme, where Tajik officers have been trained regularly. India-Tajikistan Joint Commission for Economic, Scientific and Technological Cooperation was established on August 2006, by Ministry of Commerce and Industry's Special Secretary G K Pillai on behalf of the Government of India and Minister for Economy and Trade of Tajikistan H. H. Soliev, in Dushanbe.
However, trade and economic cooperation between India and Tajikistan is insignificant, as two-way trade is absolutely meager. This is clearly due to the fact that there are a number of constraints in the promotion of Trade. Mainly, due to lack of easy access and transportation facility. Regrettably, till date there is no direct air service linking Dushanbe to Delhi, which can be barely two hours away. India's economic progress is admired in Tajikistan, which will be beneficial for increasing trade and economic cooperation. However, the primary obstacle is the transportation difficulties. Thus, India and Tajikistan together should take-up these issues and try to overcome these challenges. Given the goodwill that exists, India should use its economic and inherent prowess to play a prominent and influencing role in Tajikistan.
Cooperation in Hydroelectric power is yet another important sector of cooperation between India and Tajikistan.
India's interests in Tajikistan are multifold- strategic, economic and cultural. Furthermore, India hopes that Tajikistan remains stable, secular and friendly. However, external factors like instability in Afghanistan do pose a threat to secularism, political stability and democratic principles in Tajikistan. Instability in Afghanistan has its direct repercussions in neighboring Tajikistan. India no doubt takes cognizance of these facts in developing its bilateral cooperation with Tajikistan.
Both India and Tajikistan understand that there is immense potential to enhance bilateral relationship and increase cooperation in various sectors. However, a new mechanism to enhance the mutual relationship and cooperation needs to be formulated. India and Tajikistan should continue a comprehensive dialogue and cooperation programmes on all aspects of mutual concern and benefits. A regular intense dialogue between the leaderships of two countries could help forge closer understanding and cooperation.
---
Dr. Nivedita Das Kundu is a Foreign Policy Analyst & Assistant Director with the Indian Council for Social Science Research, New Delhi.
All rights reserved by Rossiyskaya Gazeta.