Trials of stealth frigate have started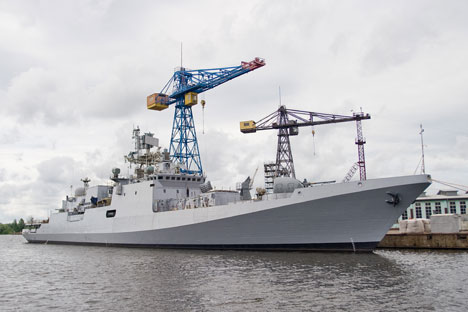 'Teg', the frigate of the Project 11356. Source: Itar Tass
September 1 Russia commenced sea trials of the India Navy's first of the three advanced stealth frigates in the Baltic Sea, The Economic Times reports.

'Teg', the frigate of the Project 11356, also known as Talwar Class, is first of the three frigates ordered by the Indian Navy in 2006 under a 1.5 billion dollar deal with Russia. The two other warships of the same class - the 'Tarkash' (Quiver) and the 'Trikand' (Bow) are at various stages of construction at the "Yantar" naval shipyard in Russia's Baltic exclave of Kaliningrad.

According to 'Yantar' shipbuilder, the Teg is expected to be delivered to the Indian Navy in the beginning of 2012 to be followed by the 'Tarkash' in the same year and finally the "Trikand" in 2013. The new frigates will be armed with deadly BrahMos cruise missiles, capable of destroying enemy ships and land targets.

India Navy already operates three of these stealth frigates and had ordered three more to bolster its fleet, The Economic Times said. Earlier in the last decade, Russia's another Baltiisky Zavod shipyard in St Petersburg had built first three of the stealth frigates -INS Talwar, INS Trishul and INS Tabar.
All rights reserved by Rossiyskaya Gazeta.