Gasoline out, electricity in?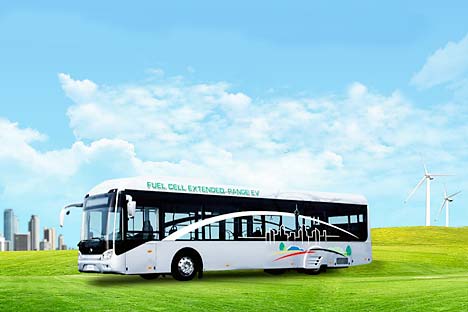 The current Moscow authorities are trying again to get the city's fleet of buses and trolleybuses to run on electricity. Will they succeed where Luzhkov failed?
Moscow's City Hall plans to make the Russian capital a leader among the world's largest cities in terms of electric-powered public transport, with 80 percent of passenger traffic expected to run on it by 2015. As part of the project, city authorities also intend to equip park-and-ride facilities with charging stations for private electric cars. Three years ago, then-Mayor Yury Luzhkov announced similar plans, but none came to fruition.
Moscow's transition to electric-powered transport was boosted by President Dmitry Medvedev's announcement in June of the need to support the initiative of several regions to transfer public transport and trucks "to electric or hybrid power."
The mayor's office estimates that Moscow needs between 12,500 and 13,500 buses, trams or trolleybuses. Twenty percent of these are projected to remain diesel-powered, while the rest could be replaced with buses powered by electric batteries. Under one project, they will subsequently replace trolleybuses serving the Boulevard Ring in central Moscow. These would be small-sized electrobuses, with 18 to 20 seats.
Manufacturers have been invited to present electrobus prototypes to the mayor's office by Nov. 1. The key requirements are a minimum range of 250 km per charge and the ability to operate in winter. The authorities have not ruled out a tender before the year's end to purchase equipment over the next three years. Bidders include China's Youtong and an electrobus manufactured by Trolza in Engels, with batteries and engines made by Liotech. The latter would exist in two versions, with a 125 km and a 250 km (77-150 miles) range and with a price tag of between 8 million and 11 million rubles ($257,000-$375,000), roughly double the price of a large-capacity 89-seater bus. Mass production will help reduce the price by 20 percent, and savings on fuel and lubricants will pay for the electrobus within four or five years, after which it will generate a profit greater than that of a conventional bus.
The main questions are where to repair electrobuses and how to charge their batteries.
"No single industry standard exists for electric-powered buses and freight trucks. We have set up a task force to decide which standard is best for our city's conditions. We are collecting information on international experience and are talking to manufacturers," said Denis Tsypulev, electric transport project manager for Moscow's electric company MOESK. "We have set a broader task of creating a universal charging infrastructure for both electrobuses and private cars."
It is worth noting that the electric-powered car Mitsubishi i-MiEV has been officially introduced in Russia recently. MOESK announced earlier that it would build its first car-charging stations in 2011, including some that would meet the ChaDeMo (fast-charging with direct current) standard. According to Tsypulev, there will be more than 28 charging stations of all types in the city by the end of the year, at locations such as near MOESK offices, shopping mall and cinema parking lots, and in some car dealerships; the service will be initially offered free of charge as part of MOESK's EV pilot project.
The Moscow authorities have yet to come up with a budget for their new project.
All rights reserved by Rossiyskaya Gazeta.