India to receive modified Mi-17s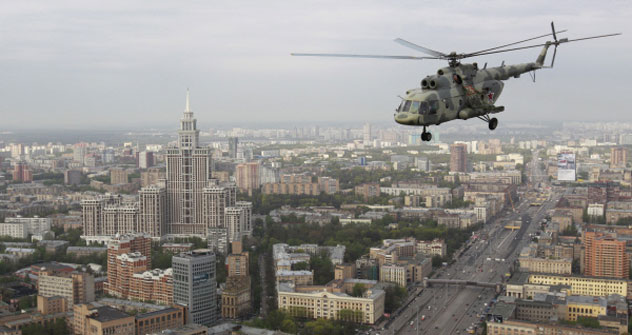 Mi-17 combat helicopter is flying over Moscow. Source: RIA
The Indian Air Force will receive a more powerful, modified version of the Mi-17 combat helicopter within the next two to three weeks. Sources say that the first units will be stationed at a central airbase in Southern Punjab. The location of the base was selected with consideration of neighboring regions.
The delivery of the first helicopter was initially scheduled for last March. India has ordered a total of 80 helicopters. The $1.35 billion contract was signed in 2008 with FSUE Rosoboronexport (Russia's major exporter of weapons and military equipment), India's Ministry of Defense reported.
The Indian Air Force plans to use the Mi-17s for special missions, such as transporting troops and equipment, search and rescue operations, and emergency evacuations.
Airborne troops and Navy Special Forces have long used the Mi-17. Its modified version can land several crews at once via several onboard exit points.
The Mi-17 is the most recent upgrade for the Indian Air Force. The last helicopter deliveries occurred between 2000 and 2004. India's Air Force has been using several types of Mi helicopters for the last forty years, including in operations in East Pakistan and the 1999 Kargil War. This helicopter is the mainstay of the Indian Air Force in Ladakh, Arunachal Pradesh, Himachal Pradesh, and the Himalayas.
The new model will feature a number of technical features that will allow pilots to start engines at an altitude of up to 6,000 meters, in order to serve facilities located in the Himalayas. Each of the twin engines now has a capacity of 2,200 hp, a significant improvement over the original Mi-17s, which had twin engines of 1,950 hp each.
India's neighbors, China and Pakistan, also use Mi-17 helicopters. While Pakistan has only a few Mi-17s supplied by the US (a new delivery is pending), China has signed a joint production agreement with Russia.
As previously reported, Rosoboronexport signed a contract with the US Army in May 2011 to supply Afghanistan's Air Force with 21 multi-purpose Mi-17V5 military transport helicopters for a total of $367.5 million. This deal is the first ever Russian-American military and technical cooperation project. According to Vyacheslav Dzirkaln, deputy director of the Federal Service for Military-Technical Cooperation, the Afghanis, who will be the end recipients of the choppers, have a long track record of operating Soviet-made helicopters. The Mi-17V5 is one of many upgraded versions of the world-famous Mi-8.
The first machines in this series were tested in combat conditions during the Afghan War in the 1980s.
All rights reserved by Rossiyskaya Gazeta.