Moscow skyscraper lights up capital birthday bash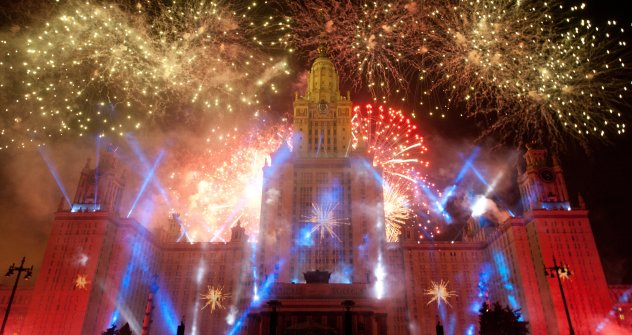 Moscow celebrated its 864th birthday with a unique 4D light show that may even enter the Guinness Book of World Records.
For one evening, Moscow State University on Sparrow Hills was turned into a huge 25,500-square-meter screen – the façade of the building itself – onto which was projected a grand light and video show.
The author of the light spectacular is Australian David Atkins, who masterminded the opening ceremonies for the Summer Olympics in Sydney in 2000 and the opening and closing ceremonies of the Vancouver Winter Games last year.
He and his team spent six months preparing for the show. Atkins played with the façade, creating and deconstructing iconic images and Russian masterpieces, and scenes of nature and technology. Two hundred trucks were needed to bring in all the necessary equipment. Forty giant light projectors capable of illuminating e the sky for more than one kilometer were also brought in, as were 81 hi-tech projection units.
Through the show, all Muscovites got the opportunity to complete an imaginary journey from the capital to different worlds – real and imagined. In seconds, the university building was covered with ice, turned into a giant aquarium, a spaceport, completely disappeared and was built over again. Sparrow Hills for a moment even turned into the Eiffel Tower and Big Ben.
All that became more amazing when Alain Robert, the world's most famous urban free climber, sometimes known as "the French Spider Man," scaled the university building during the event. Before the audience's eyes, he climbed the building and destroyed the university with a hammer. Imaginary boulders scattered in all directions.
According to media reports, approximately 100,000 people attended the show.
Originally published at RT.com
All rights reserved by Rossiyskaya Gazeta.