Former Nerpa, future Chakra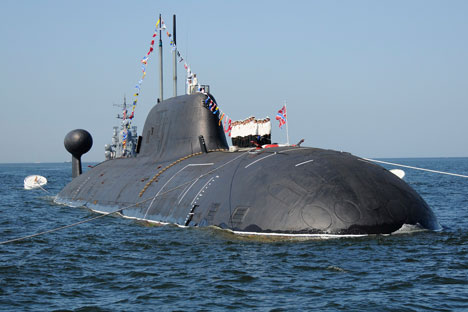 India will receive the Chakra nuclear submarine in the near future.
India will soon receive the Russian-made Nerpa nuclear submarine armed with missiles and torpedoes (the Project 971I "Schuka-B") under a ten-year leasing agreement. The Indian Navy has renamed the submarine Chakra. Testing of the submarine was completed in late August.
The submarine will be leased under a secret agreement for $650-700 million. An Indian boat crew is currently practicing different missions in the Sea of Japan, accompanied by Russian instructors.
Before it goes into commission in the Indian Navy in late 2011, the submarine will arrive at a special SSBN base currently under construction in Rambilli on India's east coast.
Once the Chakra is commissioned, India will become the sixth country in the world to own a nuclear submarine, after China, France, Russia, the UK, and the US.
While the Indian Navy has refused to comment on its nuclear submarine program, news reports from Moscow have corroborated the program's timeline.
The Chakra will serve as a training platform for the INS Arihant, the first Indian designed and built SSBN, which is due to begin patrolling the seas with a full set of long-range weapons at the end of 2012. The Indian Navy plans to build between three and five SSBNs.
The Nerpa nuclear submarine (К-152, Project 971I Schuka-B) is a third-generation submarine. It was designed by Malakhit Maritime Engineering Bureau in St. Petersburg, in cooperation with the Aurora Scientific & Production Enterprise.
Construction on the vessel began in 1991 at the Amursky Shipyard in Komsomolsk-on-Amur. However, financing for the construction was cut in the mid-1990s. Completion of the submarine was only made possible by financing from India.
During sea trials in the Sea of Japan in the fall of 2008, a fire broke out onboard the submarine. A malfunctioning fire-extinguishing system pumped tetrachloroethen mixed with chlorofluorocarbon into crew compartments. The mix essentially produced a phosgene-type poison gas. Twenty servicemen and civilian specialists were killed by the gas and 21 more were hospitalized with poisoning.
After repairs, the nuclear submarine joined the Russian Navy in December 2009. It is armed with cruise missiles, torpedoes, and missile torpedoes. It has a crew of more than 80 people.
All rights reserved by Rossiyskaya Gazeta.