Sleepboxes moving into Sheremetyevo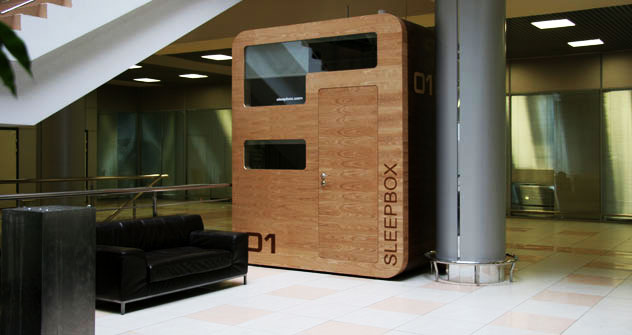 Capsules offer weary travelers a new option for resting between flights.
Photos from www.the-village.ru
In the Aeroexpress Terminal at Moscow's Sheremetyevo International Airport, curious passengers recently examined a contraption, shaped like a capsule with two beds arranged inside like berths in a train's sleeping car. The rest zone, known as a Sleepbox, is designed for passengers who have to wait for delayed flights or who simply want some privacy. So far, the Sleepboxes are not yet in use and nobody knows when they will be.
"This is a pilot model. It was not our goal to equip the terminal with new mobile rest spots all at once. We haven't yet discussed when the Sleepbox will be in operation and whether more of them will be installed at the airport," said Vadim Semikin, spokesman for the Aeroexpress Terminal.
Like many unusual and highly practical things, the first capsule hotel opened in Osaka, Japan, in 1979. Later, other countries adopted the idea and opened similar hotels in Poland and China. The British YO! Company was inspired by the Japanese idea to create a network of Yotels that now operate at London's Heathrow and Gatwick Airports, Amsterdam's Schiphol Airport and in Times Square in New York.
"For starters, we just want to acquaint passengers with this new idea," said Alexei Goryainov, the creator of the Sleepbox project. This is the first and only model installed at Sheremetyevo. The creators soon intend to install about 30 more capsules at a Moscow hotel. In the future, the Sleepboxes may be used not only in airports, but also at train stations and bus terminals.
The creators say that because of soundproofing, it is quiet enough inside the Sleepbox to relax and unwind. The box has two bunks with bed linens that change automatically, as well as folding tables, drawers and mirrors. In the future, air conditioning, wireless internet and televisions will be added.
Many countries have capsule rest areas, but the creators of the Moscow Sleepbox project claim that their design is unique.
"The most important difference between our model and others of its kind is that a Sleepbox can be installed right in airport lounges, so that passengers who have gone through passport control and are waiting for their flight can have some privacy and rest at any time," said Goryainov.
A capsule hotel is already operating at Sheremetyevo's Aeroexpress Terminal. The facility, which opened in 2009, is made up of small suites consisting a room with a bathroom. Passengers must book a room for a minimum of four hours. The cheapest room costs 1,490 rubles (36 Euros) per person, with each subsequent hour costing 300 rubles (7 Euros). The creators of the Sleepbox claim renting a bed there will cost about 400 rubles (9 Euros) an hour per person for a two-bed box and 500 rubles an hour (12 Euros) for a single box.
Meanwhile, sleep specialists have expressed doubt that a Sleepbox can be an effective place to get good sleep. "Falling asleep in one of these rooms in an airport departure hall won't be easy," said Roman Bozunov, chief of the Department of Sleep Medicine at the Barvikha Clinical Sanatorium. According to him, passengers waiting for their flight are rarely able to completely relax. "Only somebody with nerves of steel, like Stirlitz [Russia's answer to James Bond] could get into the Sleepbox and go to sleep. It's been a long time since I came across a person like that here."
All rights reserved by Rossiyskaya Gazeta.