Alexander Sokurov's much anticipated "Faust"—inspired by Goethe's classic interpretation of the legend and filmed in German—premieres today in the competition section at the Venice Film Festival. Critics say the film, which won the Golden Lion at the festival, may well reaffirm his place at the table of great Russian film directors.
But in an interview in his hometown of St. Petersburg before leaving for Venice, Sokurov said he wasn't looking forward to the whole festival experience.
The filmmaker is a festival legend himself. His trilogy of films about dictators — Hitler, Lenin and Emperor Hirohito in "Moloch," "Taurus" and "The Sun," respectively—together form a prequel to "Faust," the archetypal deal-with-the-devil story. His "Russian Ark," filmed in the State Hermitage Museum in St. Petersburg, wowed the international art-house crowd in 2002.
"I have been to many festivals, to Cannes, to Venice. I don't like being there. I don't like the system of competition," said Sokurov, 60, speaking in a park near his home in St. Petersburg. "How can you say that I am better than someone else? Directors with a name should not compete with young cinema people," he said, "We should give up our place for the young."
That is not his only criticism of the festival system.
"How many times do you get a jury where you do not know two-thirds of the people? How can that be?" he said. Darren Aronofsky was the president of this year's seven-member jury. He is best known for his recent psychological thriller, "Black Swan," starring Natalie Portman, and "The Wrestler," a sweet comeback for Mickey Rourke.
Sokurov's candor regarding the festival is typical: The director is known for saying what he thinks. His early films were banned by Soviet authorities, which in a way brought him more international attention. His film "Mournful Unconcern" was released in 1987.
Sokurov says his serial obsessions with dictators and "Faust" itself, which is the culmination of the quartet of films, goes back 30 years. "It's amazing that there is so little attention paid to Faust," he said, "If any politician reads Faust everything is there. It's as if it is written in the 21st century, not the 19th century."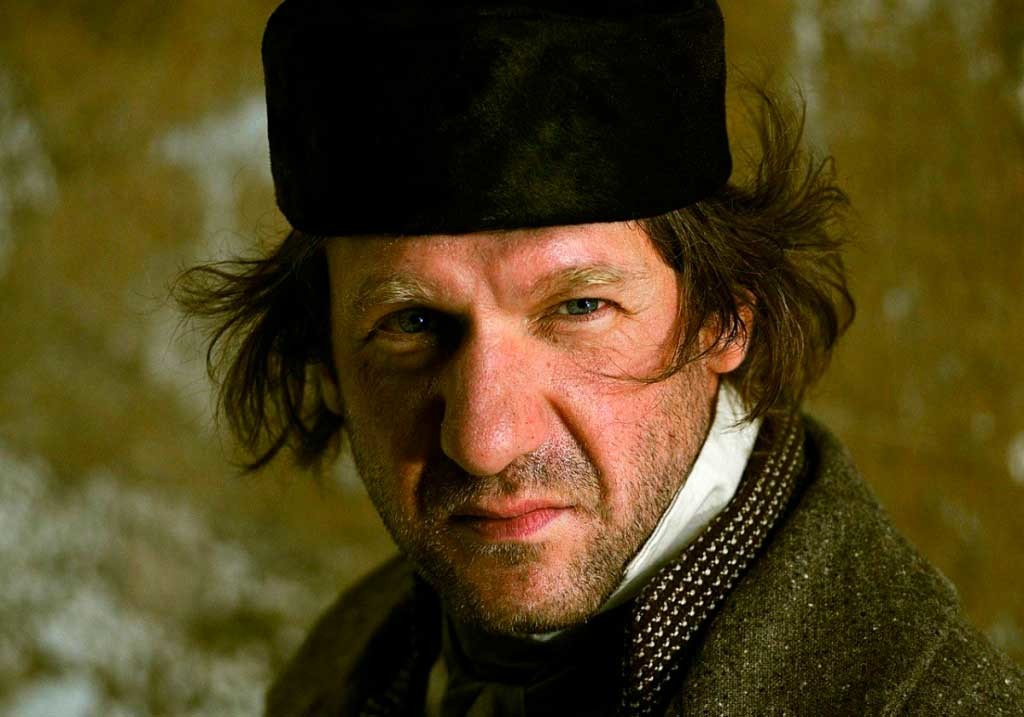 Screenshot from "Faust"
A huge amount of historical research went into his movie, he said, which was filmed on location in Spain and Iceland, where he had replicas built of early 19th-century German cities.
Sokurov, a figure whose inability to compromise has seen him feted more abroad than at home, did not receive any funding from the Ministry of Culture to make this film—and for that reason it might not have been made. But money appeared after Prime Minister Vladimir Putin spoke out in support of the filming of "Faust."
Why Putin supported the film is still a mystery to Sokurov, who met with the prime minister and acknowledged the importance of his support. The fact that his film is about Faust, he thinks, was an important factor.
"I'm not sure if [the film] will be interesting for him, although he knows the German language and German culture is close to him," he said. "I don't understand why such help was given, I am not a supporter of those who support political culture in Russia."
Instead, he has long been a campaigner for the preservation of his home city's historical architecture, and has been fiercely critical of the St. Petersburg government, so critical that an opera he was staging at the Mikhailovsky Theater was shelved after he signed a letter attacking city policies.
"They phoned me and asked if I wanted to remove my signature, did I not think it was a mistake," he said. Sokurov refused. "The next day the spectacle was closed and I was fired."
Sokurov is also at the forefront of the campaign to save Lenfilm, the second-most famous Russian film studio after Mosfilm. The studio may be taken over by the media holding of the huge conglomerate Sistema Financial Corp., a consumer services company headed by oligarch Vladimir Yevtushenkov.
Sistema's promises to preserve the studio have been met by disbelief by a number of Russian directors, who have spoken out against the move. Sokurov began his film career at Lenfilm after he a recommendation by seminal director Andrei Tarkovsky, the author of "Andrei Rublyov" and "Solaris." Lenfilm in St. Petersburg has long had a reputation for being more supportive of art house directors than its rival Mosfilm. But Lenfilm makes a few films a year and is in dire straits.
"I would not have got into [Mosfilm] as it's not that kind of studio," he said. "When Tarkosvky died Mosfilm was very glad as they hated and were jealous of him."
Sokurov said he is not looking forward to speaking to critics about "Faust" in Venice. So he doesn't like critics either. One of the few exceptions is the late Susan Sontag, who he says provided a unique view about his films, adding something to his own understanding.
"No one is going to be harsher than me in criticism," he added. "I know what I wanted to do and what didn't work better than anyone. Once I start to talk about the faults of "Faust" now you will never stop me," he said.
All rights reserved by Rossiyskaya Gazeta.