New York: post-soviet designers' final frontier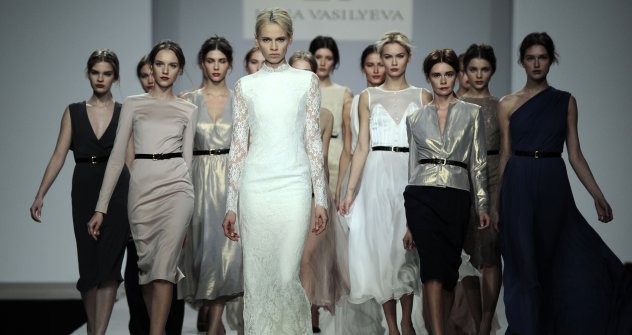 In honor of New York Fashion Week, RBTH talks to emerging designers from post-Soviet states who are making some waves in Manhattan.
Courtesy of a Designer
It is a rare moment in fashion to encounter a fresh point of view. But 20 years after the fall of the Iron Curtain, designers from Russia and emerging post-Soviet markets are garnering attention — even in New York — for their new perspectives and experimentalism on the catwalk. Russian style exemplifies the complex phenomenon known as the clash of civilizations; creative artists reveal the fierce duality of being both Eastern and Western. Yet today's designers from the former Soviet Union are also buoyed by two decades of open borders, the endurance of the petrodollar and Russians' penchant for the pursuit of beauty.
80%
of Russian spending on luxury goods takes place in Moscow, although regions are courting luxury brands.

New York is the ultimate frontier for designers from Russia and the former Soviet republics. Russian-born designer Alexandre Plokhov, whose label Cloak has reached cult status, is returning to New York after three years in Milan, where he also designed menswear for Versace. Plokhov's eponymous brand will be launched at Barney's in September, and longtime Vogue editor-in-chief Anna Wintour recently graced him with a visit to his showroom in the Flatiron District. "This is my home," an elated Plokhov said. "I love this city and the opportunities it represents."

One of Kazakhstan's leading designers Kuralai Nurkadilova hopes to present her KURALAI Fall/Winter collection in February 2012 during Mercedes-Benz Fashion Week at Lincoln Center. In Central Asia creativity and craftsmanship are fueled by rich cultural heritage and ready access to some of the world's finest cotton, wools and hides. These designers also seem to benefit from the growing geopolitical interest in the region.
Two designers to know
Alexandre Plokhov
Plokhov's gothic menswear line, "Cloak" had a devoted following, and his fans were distraught when the line was shuttered in 2007. The designer returns to New York this year with a Spring/Summer 2012 collection presentation at Barneys that includes deconstructed, slim jackets and asymmetrical tailoring.
Kuralai Nurkadilova
Beginning this fall, the Kazakh army will be outfitted with new uniforms designed by Kuralai Nurkadilova. The attire will feature traditional Kazakh folk motifs and embroidery. KURALAI fashion collections underscore Kazakhstan's desire to remain at the intersection of East and West.

New York City is the ultimate stage to launch a designer's international profile since it provides unrivaled worldwide access to key decision makers. "Designers who think they're 'artists' are attracted to Paris. Designers who want to be about fine craftsmanship flock to Milan. Those who want to do business and make money come to New York," said Mickey Boardman, editorial director at Paper magazine.
That is why South Korea, Argentina and a group of African countries have presented collective showcases here, attracting global attention to their fashion markets. Russian designers would do well to follow suit. "The anticipation and stakes are high. The potential for subsequent success and consequences of failure to impress are both measured in cold hard cash," said Rubin Singer, a Manhattan-based American designer with Russian roots.

Few Russian or post-Soviet designers will make it to New York Fashion Week — yet. They cut their teeth at the fashion festivals at home: Between Moscow and St. Petersburg there are six fashion weeks. Occasionally, a star breaks through. Easily the most memorable debut in recent years belongs to Vardoui Nazarian. Influenced by Armenian architecture and culture, her shows are among the most anticipated each season. Vika Gazinskaya exploded onto the scene when one of her collections was presented to critical acclaim at the iconic Colette store in Paris. Her theatrical style is so distinct that "very Vika" is becoming slang for "cool" among fashionistas. Leonid Alexeev, who received the coveted St. Martin's College of Art & Design diploma, chose to return home to launch his label. While many young Russian designers end up trapped in national looks or folklore, Alexeev follows his own chemical muse. His last collection was inspired by the process of breakdown in oils and acids.
Success begins at home
For centuries, Russia has been a premier producer and consumer of luxury fashion goods. From Vikings to Silk Road traders, diverse influences created the country's sense of style. Russian experiments in fashion, however, have historically been heavy-handed: Peter the Great enforced a European dress code; Soviet ideology shunned all things Western. The collapse of the Soviet Union presented yet another set of challenges. During the Soviet era, a dress sold in Siberia could be designed in Armenia and made from Uzbek cotton in Estonia. Suddenly, this transaction was a complex affair involving customs duties. Underperforming production facilities and difficult logistics have made foreign buyers skeptical about partnerships with post-Soviet designers, but now Russian fashion infrastructure is expanding, driven in part by the domestic demand for higher-quality goods.

Among those vying for the global spotlight are Russian fashion stars Lena Vasilyeva and Oleg Biryukov, whose work appeals to the country's elite while still trying to reach a mass audience. Vasilyeva got her start designing privately for some of country's most beloved actresses. Her style epitomizes both Moscow's sense of tradition and renewed self-confidence: classic silhouettes, bold palettes, no showoff gimmicks. Biryukov is among a handful of Russian designers with a signature look and feel; the St. Petersburg resident stood by his "couture intellectuelle" and weathered many trend storms while nurturing a niche for sensuous minimalism.

At its pre-financial crisis height, Russia's luxury spending was an impressive $8 billion. Slashed nearly in half, the market forced the withdrawal of brands such as Vivienne Westwood, Alexander McQueen and Stella McCartney . Now, it is steadily regaining vol­ume, and these brands are making a cautious comeback. According to Moscow-based fashion consult­ancy Esper Group, in 2011 Russia's luxury market is set to grow by 16 percent, outpacing the global rate of 10 percent. The country is on track to reclaim its position as the world's fourth-largest consumer of luxury goods.

While 80 percent of the country's luxury trade happens in Moscow, many regional centers are courting brand attention. Rostov-on-Don, a vibrant southern city, boasts Salvatore Ferragamo, Sonya Rykiel and Pierre Cardin boutiques, with others on the way. "This momentum is exciting, but it does little for Russian designers. Our consumers traditionally place a premium on imported fashions. It creates an odd boomerang mentality. One must prove oneself overseas to get noticed here," said Alina Matlashenko, editor at regional M.M.G. Fashion & Beauty magazine. The pressure to show abroad is intense, but those who manage to do so reap the rewards. And if the KURALAI collection debuts at Mercedes-Benz Fashion Week in New York next February, it will help put Kazakhstan on the world's fashion map.


Additional reporting by Alexey Timbul in Russia .

Stephan Rabimov is the founder and editor in chief of Depesha Russian Lifestyle Magazine and C.E.O of Depesha, a communications agency.
All rights reserved by Rossiyskaya Gazeta.