Tatarstan's high-tech transformation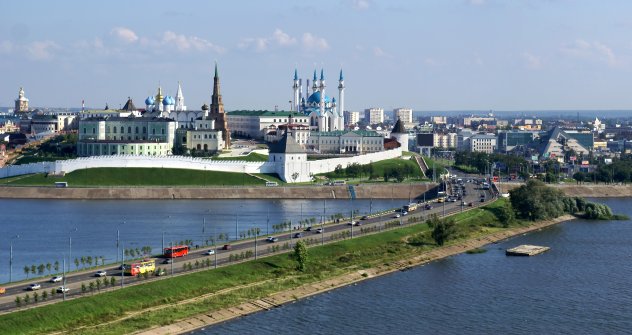 In Kazan, the capital of Tatarstan, the local Kremlin houses both a Russian Orthodox Church and a Mosque. Source: Lori / Legion media
Tatarstan is setting an example for the rest of Russia by combining entrepreneurship with government support to create self-sustaining technoparks.
"Twenty-three percent of all traffic fines in Tatarstan are paid electronically," said Nikolai Nikiforov, Tatarstan's grinning 29-year-old minister of I.T. and communication, sitting in his office atop the glitzy glass skyscraper that forms the I.T. park in downtown Kazan.
Nikiforov is exuberant about his eGov program, which allows access to 25 types of government services - including paying taxes, scheduling weddings and obtaining a passport - via the Internet. "We lose hundreds of millions of man-hours a year on bureaucracy," said Nikiforov. In June, users of the eGov program completed a million transactions using the system , a four-fold increase from January. For the 48 percent of households without Internet access, touchscreen terminals across the city offer easy access to the system. "We could have offered the contract for developing eGov to pricey foreign software engineers, but chose locals instead," said Nikiforov. "Eighty percent of the system was developed right here, and now the companies are marketing their products in other parts of Russia." I.T. currently accounts for 3.5 percent of Tatarstan's economy, but Nikiforov says the republic is aiming for 7-10 percent, like its peers in the developed world, by 2016. "The tools we have for this - technoparks, venture funds and universities - are nothing individually," said Nikiforov. " T hey are part of a single ecosystem we must develop 
systematically." Sergei Yushko, general director of a neighboring technopark called Idea, agrees. "We've existed for seven years," he said, "and a day hasn't gone by that I haven't felt the complete backing of local authorities." Idea was founded on the territory of an abandoned defense plant in 2004 with the aim of creating jobs in high-tech sectors of the economy. By providing two key services to local start-ups — cheap rent and sound business advice - the technopark "graduated" enough firms within three years to become self-sustaining; by 2007, its companies were paying enough taxes into the local budget to repay the start-up capital. "For the last four years, we've been independent of the regional budget, and this is important," said Yushko. "Our experience proves technoparks are a viable model for economic development in Russia ."
In figures
3.5 %
of Tatarstan's regional economy is based in information technology. The republic hopes to increase that amount to between 7 and 10 percent.
7 years
have gone by since the Idea technopark was established. The park is now financially independent of local authorities and regularly graduates new companies.

Yushko explains that most of the companies at Idea provide engineering services, software design or Web design. After three years, graduates of Idea have the option of leaving the territory of the technopark altogether, usually securing bank loans independently to acquire office space, or moving into its business park, where rent is no longer subsidized. There, neighbors will include the local R&D branches of international behemoths such as G.E., Honeywell and Siemens. "The foreign companies come first and foremost for the qualified personnel," said Yushko.

"I'm a believer in the unpopular notion that we don't need factories in Russia," Yushko said. "Production will eventually be moved to where you have cheap labor, like China. Our advantage is people and their ideas."
Gross regional product (GRP) growth has largely rebounded since the global economic crisis.
Still, that's also one of the greatest challenges to high-tech companies in Tatarstan. "We want to build an 'I.T. village' outside Kazan based on the Skolkovo model in Moscow," said Nikifirov, referring to Russia's equivalent of Silicon Valley located in a village near the capital. "By our best estimates, we'll need to house 20,000 I.T. specialists there to get this sector of the economy as large as we want it. Tatarstan currently has 5,000 such specialists. We'll have to attract 15,000 from other regions of Russia."Thinking locally In another part of Kazan, an industrial park called Khimgrad became the first such project in Russia to be internationally certified by representatives of Ernst & Young and Knight Frank. Khimgrad focuses on polymer and chemical production and, unlike the technoparks, it seeks to take advantage of underdeveloped raw materials in Tatarstan. "We produce a plethora of polymers in Tatarstan, but these are typically exported and then re-imported with much added value," said the park's manager, Airat Gizzatullin. "At Khimgrad, we don't work with technologies of global or even national significance; we're just focused on modernizing the local economy and establishing efficient supply chains." Khimgrad offers fully equipped facilities, business solutions and tax breaks to investors - both Russian and foreign - willing to set up production. "Only a complete ecosystem can structurally change Russia's economy on the scale that our country's leadership talks about," said Nikiforov. "That's what we're trying to do in Tatarstan, and we began earlier than other regions." But a lot of work remains to be done. "When we asked investors five years ago what we needed to do for them to come, they said, 'Build a new airport!' It was a funny response, but carried a lot of truth." Today, a sign hangs over the shoddy building that services both domestic and international flights to Kazan: "New terminal to be completed in 4th quarter of 2011."
VIDEO
Tatarstan is an economically and religiously important region with millennium-old traditions and rich ethnic diversity. At a time when religious hatred is causing terrorism and wars, Muslims and Orthodox Christians live happily side by side in the republic. Join RT on a journey across Tatarstan for an insight into the local economy, culture and, of course, cuisine.
All rights reserved by Rossiyskaya Gazeta.