A woman's place is in the Duma?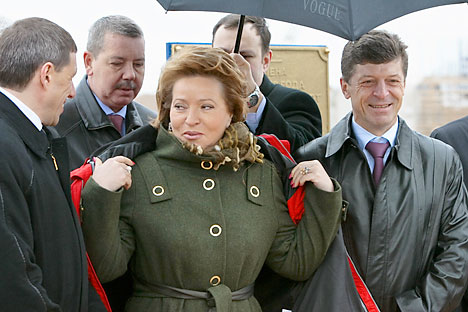 Valentina Matviyenko got a great promotion changing her position from the governor of St. Petersburg to the head of the Federal Council. Source: RIA Novosti
Since the end of Soviet era quotas, the number of women in Russian politics has declined. What will bring them back?
During the Soviet era, Vladimir Lenin's famous saying "every cook must learn to govern the state" was used to justify quotas for women in government positions. But in today's Russia, female politicians are few and far between. In fact, there is only one woman on the national political scene – Valentina Matviyenko, former governor of St. Petersburg and the next head of the Federation Council.
After Soviet quotas were abolished in the early 1990's, women disappeared from the politics in Russia; today, a traditional view of gender roles has replaced the Communist ideal of gender equality. According to Olga Kryshtanovskaya, a sociologist who focuses on politics at the Institute of Sociology at the Russian Academy of Sciences, women trying to make it in politics fall into one of two categories: Those who have been placed there by a man who wishes to look at a pretty doll, and those who have achieved their positions by talent and hard work.
Kryshtanovskaya considers Matviyenko representative of the latter category. "She is the only one with real political stature - a vision - she is an extremely experienced and effective manager," said Kryshtanovskaya. For her part, Matviyenko has always resisted talking about herself as a woman in politics. At her final press conference as governor of St. Petersburg, Matviyenko said that she always though questions about women and politics "lacked sense."
"A women, regardless of her status or skills or qualities she possesses, will always be subjected to a level of distrust," said Irina Khakamada, a former Duma deputy and 2004 presidential candidate who has now retired from politics.
"For 13 years, I spent 70 percent of my time and energy proving I am a politician with equal rights. I only had 30 percent of it left to actually pass laws," she said in an interview with Ekho Moskvy radio. Nevertheless, Khakamada is opposed to quotas, which she considers another form of discrimination.
"We must reform minds and the environment," Khakamada said. "Politicians in Russia are often insignificant, because the system works for them. They can be completely uninteresting, yet be leaders. A woman goes against the current; she must make herself be noticed. She must be extraordinary. "
Although 14 percent of the deputies in the Russian Duma are female, not all of them are role models.
"They are not politicians in the true sense of the word, with an ideology and a broad vision, but rather hired professionals," said Kryshtanovskaya.
Some women, however, manage to exceed expectation. When former Olympic speed skating champion Svetlana Jourova was elected to the Duma, most had low expectations for her, as she seemed to continue the trend of young, attractive women backed by powerful men.
"At first people said she would be just another cute athlete who will make up the numbers [of women]. But she proved to have real political skills," said Kryshtanovskaya.
Jourova belongs to the Duma committees on family, education, culture, physical education, and youth, but she is also the deputy speaker of the Duma and a member of the Olympic committee. "Women are capable of negotiating and cooperating, looking at the impact of their decision on a concrete person," she said in an interview with the German magazine "Neue Zeiten," encouraging her female colleagues to participate more actively in major decisions.
As for Kryshtanovskaya, the sociologist is not only developing theories on the role of women in the corridors of power – she is putting her thoughts into action. Since 2009, Kryshtanovskaya has been a member of the United Russia party and she is now president of a new NGO, Otlichnitsy (roughly translated as "first in the class") whose goal is to see a woman elected president of Russia in 2018.
But the organization is fighting an uphill battle. A recent study by state polling agency VTsIOM revealed that a quarter of all respondents believe there are already too many women in politics.
All rights reserved by Rossiyskaya Gazeta.