DIOD: "We expect marketing freedom from our Indian partners that is impossible to obtain from the Europeans."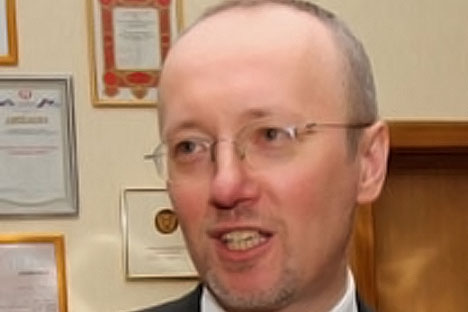 DIOD, a major Russian para-pharmaceuticals manufacturer that conducted an IPO in June 2010 and the Indian company Aurobindo Pharma Limited have announced the Aurospharma joint venture for manufacturing and marketing generic medicines in Russia. The project is valued at $30 million. Aurospharma will raise the finance on its own under the Russian company's guarantees. Aurobindo, the main supplier of active pharmaceutical ingredients for the JV, will contribute its trade marks and medicines registered in the Russian Federation. DIOD CEO Vladimir Tikhonov and Aurobindo Pharma Vice President Vishnu Shriram shared their plans with us and talked about what they think is important in business and partnership.
What do you think about the situation in the global pharmaceutical industry and on the generics market in Russia?
Vladimir Tikhonov: I would point out three main trends. The first is that the world's biggest pharmaceutical companies have been losing their ability to earn large margins because many innovative medicines are under patent protection through 2013–2015. At the same time, more and more generics are hitting the market.
Second, introduction of innovative medicines is very expensive. Almost all major Western corporations hold big portfolios of innovative medicines that they refrain from introducing on to the market. International investors are extremely reluctant to invest in biotech companies, lacking confidence that those medicines will ever turn a profit.
Third, companies have been trying to create brand-name generics, i.e. ones that are different. What is a generic? In a nutshell, it is a medicine with proven pharmaceutical, biological, and therapeutic equivalence to the original but without patent protection. They must be different not only in name but also in certain features that are important for the consumer or the doctor. We call this class of generics modernised. I believe the future belongs to them. We will develop this area while formatting and manufacturing standard generics.
This market has also been growing over the years. I can see that many innovative medicines can become generics within the next few years. And we are going to capitalise actively on this trend.
Why did DIOD decide to cooperate with Asia rather than Europe?
Vladimir Tikhonov: We cannot be equal partners with the Europeans. Europe's generic pharmaceutical industry is not competitive compared to China's or India's, plus it has a good track record. But, at the end of the day, it is the cheapest manufacturer that wins. We have selected India because it is cheap and the quality is high. The main production capacity for substances is located in Asia. That is why they are the future. Aurobindo has accumulated experience of manufacturing ready-made medicines, which we hope will help us register our medicines in Russia faster.
What does DIOD expect from its Indian partners?
Vladimir Tikhonov: First of all, we hope to get access to high-quality raw materials. Aurobindo is a corporation that manufactures output chemicals for substances and controls quality at an affordable price. This is the main thing we will receive from our partners. We hope that, in terms of competitive position, our chances are excellent. Our Russian rivals will not be able to get hold of those substances. This is very important for us. Moreover, we would like Aurobindo to set up production quickly of the generics we need. Although India has no idea what Russian consumers need, they can manufacture the requisite medicines at short notice.
We expect marketing freedom from Aurobindo that would have been impossible with European companies. We expect cheap but high-quality feedstocks, the possibility of manufacturing them quickly, and freedom of action on the Russian market.
Vishnu Shriram: Aurobindo Pharma's strength is in its R&D and manufacturing, while DIOD is strong in sales and marketing. That's what we are counting on. In exchange, we will supply manufacturing technology to our partner.
What are Aurobindo Pharma's competitive advantages?
Vishnu Shriram: There are many players on the generics market now. But Aurobindo is a global pharmaceutical company involved in developing, manufacturing, and marketing active pharmaceutical ingredients and ready-made medicines. New molecules need to be introduced very fast in order to sell them at an affordable price now. That's what we are good at.
We believe our advantages include our own large research and development centre. Furthermore, we can control end-consumer prices very well. Russia's pharmaceutical market is the fastest growing at present. Any pharmaceutical company would be interested in such a market. But competition is growing in Russia and we understand that. New laws have made it very difficult for smaller manufacturers to compete. Research and development are expensive. Plus, all companies must meet the GMP standard.
Only big firms can afford to exist here. That's why we think we stand a good chance of establishing ourselves. We hope to take 2­–3% of Russia's pharmaceutical market over the next five years.
What exactly will you manufacture? And how affordable will your medicines be?
Vladimir Tikhonov: The projected retail price of our ready-made medicines will be in the range of 50 to 300 roubles. The company will focus on manufacturing heart disease, anti-viral, and neurological medicines. These segments account for 24.5% of Russia's total medicine sales. Overall, our JV plans to produce more than 100 kinds of medicines. Our production capacity will be 3 billion pills, 180 million capsules, and 2 million bottles of syrup annually. If necessary, we can increase the capacity by 50%.
Do you plan an IPO for your JV?
Vladimir Tikhonov: Yes, we are looking at an IPO in approximately five years' time. The idea was suggested by Aurobindo's President. This is a good thing for DIOD. We already have experience of going public in Russia. It's too early to talk about concrete plans but our company will be transparent. We will release financial statements under Russian Accounting Standards, IFRS, and the Indian standards. But, before that, we will actively discuss going public with Aurobindo and DIOD shareholders, preparing them for this event. We hope investors will enter the point of growth together with us.
All rights reserved by Rossiyskaya Gazeta.