India fest begins in Russia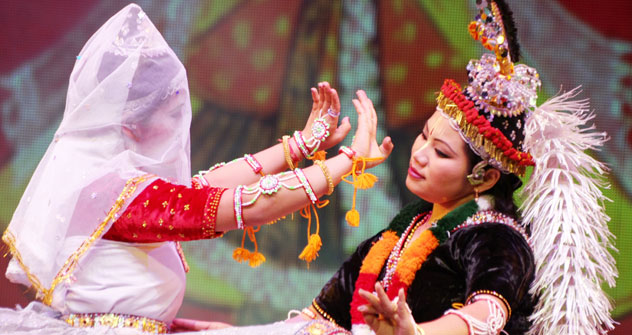 A fortnight long festival of Indian Culture began in the Russian capital here with the staging of Bollywood dance musical 'Love Story', tantalising hundreds of local residents.
The festival of Indian Culture in Russia started with the Bollywood dance musical 'Love Story' in Moscow on September 17. The fest is being jointly organised by the Indian Council for Cultural Relations and the Ministry of Culture of Russia across three Russian cities - Moscow, St. Petersburg and Kazan. It will last till September 30.

During the inauguration ceremony Indian Ambassador to Russia Ajai Malhotra and Director of the Russia's department for promoting folk culture Alexei Shalashov said that the India Fest will become an annual feature in bilateral ties.


'Love Story' directed by Sanjoy Roy and choreographed by Gilles Chuyen will also be staged in Russia's second largest city of St Petersburg and Tatarstan capital Kazan on Volga. The other visiting troupe from India, that will perform Gujarati folk dance and music show, is called the Halar Lok Kala Kendra group.
The festival of Indian Culture in Russia will also include a painting exhibition titled 'Walking beyond Three Seas', showcasing works of art by renowned Russian artists, on themes related to India.
Under the aegis of these celebrations, the Jawaharlal Nehru Cultural Centre, Embassy of India, Moscow is organising an exhibition showcasing original literary works by Tagore, translated in many languages and digital reproductions of Tagore's paintings.
Read a personal experience essay written by Elena Krovvidi:
The Indian musical "Love story" was staged at the Academic Hall, Russian Academy of Sciences. Hardly had I reached the building I already got an understanding of the scale of the event. I could see a crowd flowing impatiently to the concert hall from a long distance. The concert hall was almost filled. Before the performance and during the intermission there was a lot of hustle and bustle in the hall with guests taking their places, leaving for a sip of tea and exchanging opinions excitedly about the upcoming Festival of Indian culture in Russia. There were a lot of Indian families who came to the event, many of them seemed to have met on more than one occasion which gave a cozy feeling of home-coming.
Besides, a significant number of guests were Russians. I overheard the conversation of a young Russian couple sitting next to me. The girl said: "I'm so looking forward to the performance. You know, what I've always liked about Indian mentality is their attitude to things, their bright outlook for the future. Most of the time people in our country are running somewhere, feeling nervous and jittery. But as to Indians, everyone seems to appreciate life as it is. Not only rich people but even those living in tents and having nothing to eat still smile and hope to have it better in the next life".
While I couldn't totally agree with this opinion having a few real-life grumpy Indian neighbours sitting behind me, still this kind of mentality certainly prevails in Indian culture. Most of theatre plays and songs display this attitude - radiant, energetic and celebrating life in its every form and shape despite all hardships and misfortunes. And "Love story" wasn't an exception to this rule.
The protagonists are a village guy Rahul and his fiancée Priya who dance their way through difficulties to a happy ending and occasionally pick on each other in English. The musical was first performed in India in 2008. It won international acclaim. "Love story" was successfully staged in Barcelona and Florence.
The singing and dance scenes were interrupted by a narrator (a wise old cynic, as he puts it himself), who comments on the story easily switching from Russian to English. He engages in an animated dialogue with the audience to make sure it wasn't lost in the intricacies of Rahul's fight to conquer the heart of his beloved and even more importantly to placate her father who subjects the Indian Romeo to all kinds of trials.
Most of the viewers appreciated a mixture of traditional Indian melodies and songs and a striking combination of Indian dance movements with Latin American dances such as cha-cha or salsa even though chaotic twists of the storyline together with a variety of dance genres were somewhat confusing. Probably "westernization" of the dance and music elements can be explained by the fact that its choreographer Giles Chuyen was educated in France and used a mélange of folk and ballet elements.
Thus "Love story" couldn't be exactly considered a representation of Indian dance. It is more of a melting pot of Indian and European elements, which encompasses a wide variety of dance styles from salsa to hip-hop. That's what made connoisseurs of Indian classic dance frown. For a true admirer of Bharata Natyam and Odissi this was probably what a pocket edition of Greek myths is to a person who enjoyed reading Homer's "Iliad" or as a very much abridged version of Tolstoy's "War and Peace" for a classic literature aficionado. The performance seemed to me somewhat dishevelled and illogical at times. But then this could be considered a characteristic of a good many musicals where logic gives way to lightness and concept is often overruled by colourfulness.
I believe "Love story" could give a viewer a glimpse of Indian cultural trends nowadays: a natural blending of European and traditional Indian elements, very Westernized on the surface and yet accepting this imposed Westernization with a hint of irony.
All rights reserved by Rossiyskaya Gazeta.