The best book festival for non-readers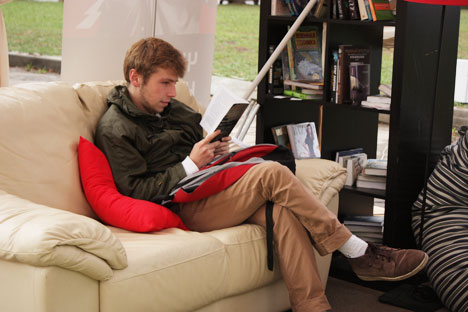 The Moscow Bookmarket was created with the idea of drawing in people who would not normally visit a book fair.
Photos by Yulia Taranova
Although it is merely a year old, the open-air, multimedia Bookmarket Festival is already providing strong competition to the Russian capital's traditional book fairs: Non-Fiction and the Moscow International Book Fair. Its success lies in its unusual format. Bookmarket is not so much about reading and buying books, as listening to and discussing them. Reading aloud to an audience was the highlight of the festival's program, with singer-songwriter Andrei Makarevich, writers Max Frei and Andrei Rodionov, film director Pavel Mamonov and actor Mikhail Yefremov invited to read.
"Our intention was to dispel the myth that young people don't read," explained the organizer of the fair, Alexandrina Markvo, head of arts management firm Buro 17. "We are interested in all text-based art forms, which is why the festival features read-throughs, movies, comics, cartoons and multimedia alongside ordinary books."
As a result, the Bookmarket program included projects that might be regarded as barely related to the book industry: the verbatim play "I am a Muscovite," the performance of a few selected songs of Jacques Brel and Alexander Vertinsky by Artichaut-Orchestre, a concert by Plumbum with certain hip-hop elements, and an electronic installation by Miusha, a group popular on the Internet. This drew new spectators to the festival, people not usually seen at book fairs.
"This is the first time that I have been to such a festival," 16-year old Alexandra confessed. "If it hadn't been for Miusha, I wouldn't have come. But it turned out all right – not boring, and I even downloaded a book to my mobile," she said.
The festival's multimedia zone, sponsored by Abbyy and IMobilco, was designed to capture the attention of those who favor e-books. Here, anyone could download any book they chose on to their own e-reading device, including mobile phones.
Bookmarket even provided new opportunities for publishers. "We see Bookmarket as an alternative venue for our annual September presentation," said Polina Knyaseva, PR manager of Eksmo publishers. "The Moscow International Book Fair is rather a conservative event, its audience consisting mostly of adults and changing little from year to year. Meanwhile, considering the market's significant decline, which is conditioned, among other things, by a falling interest in reading, we are keen on establishing a dialogue with younger readers."
"So far, we don't know what to make of this fair," said Svetlana Dyndykina of the Pink Giraffe publishing house. "We decided to participate because we are always eager to try something new. We've been watching what was going on in Gorky Park and we like the changes. We will quite possibly find new readers here – people reluctant to undertake the trip to the All-Russian Exhibition Center and not, at the same time, members of the "professional" audience that comes to the fair at the Polytechnical Museum."
Despite the rainy weather, this year's festival was a great success, and Bookmarket 2012 has certainly made it on to the list of next year's must-see book events.
All rights reserved by Rossiyskaya Gazeta.