Dr. Reddy's considers factory acquisition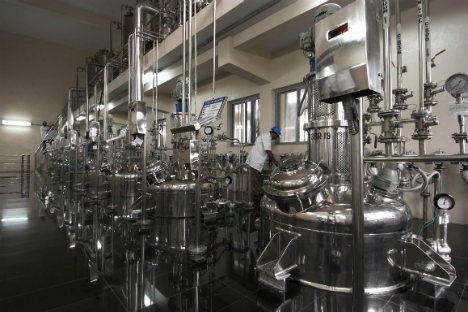 Indian pharmaceuticals manufacturers are learning increasingly to play by the new rules on the Russian market.
Having operating in Russia since 1992, Dr. Reddy's Laboratories is to expand its over-the-counter drugs portfolio and is contemplating purchasing a production plant from a Russian pharmaceuticals manufacturer. Another Indian company, Aurobindo Pharma, had announced a joint venture with the Russian firm Diod shortly before.
The Russian pharmaceutical industry has seen two important developments so far this year. In the spring, the Ministry for Industry and Trade adopted a special-purpose programme for developing Russia's pharmaceutical and medical industry. Under this, the local market share of domestically manufactured drugs should reach 50% by 2020 (from less than 20% currently). And the Ministry for Health and Social Development has recently banned over-the-counter sales of codeine-containing medicines, which will become prescription-only from 1 June next year.
These changes have prompted foreign companies to adapt their strategies accordingly, by opening plants in Russia and scooping up patents for over-the-counter drugs. Foreigners have to set up local production in Russia in order not to lose revenue as a result of the steps taken by the Russian government to support local producers, J.P. Morgan experts said in a research note.
Last Friday, Dr. Reddy's, an Indian company specialising in marketing generics, announced plans to establish a manufacturing plant but the company has yet to decide whether to acquire an existing facility or to build a new one.
Dr. Reddy's is also going to expand its line of over-the-counter brands in Russia. Dr. Reddy's CFO Umang Vohra told the Wall Street Journal that his company plans to increase the share of these drugs to 40–45% from the current 28%. This step should make the company immune to restrictions imposed on sales of medicines.
Dr. Reddy's Russian office had no comment for Izvestia concerning precisely which medicines are involved or which Russia-based plant the company would like to buy.
"This will certainly be a line of generics, because Dr. Reddy's mostly operates in the lower to medium price segment. Russia has few companies offering a wide choice of generics. The most likely candidate in terms of both portfolio and factory site is Valenta." believes David Melik-Guseinov from Cegedim Strategic Data.
Valenta refused to comment.
Buying rights to generics is especially important today. According to projections by Visiongain, a UK market research company, the market for non-patented medicines will expand to $137.6 billion by 2015, from last year's $96.4 billion, driven mainly by developing countries.
Dr. Reddy's has stressed that the Russian market is a priority for the company. Sales volumes in Russia outpaced those in North America during the second quarter of 2011. Sales in the prescription, hospital, and over-the-counter segments in Russia and other CIS countries increased by 18% to $63.5 million, accounting for 15% of Dr. Reddy's total revenues.
All rights reserved by Rossiyskaya Gazeta.