Rock-'n-Roll for those who care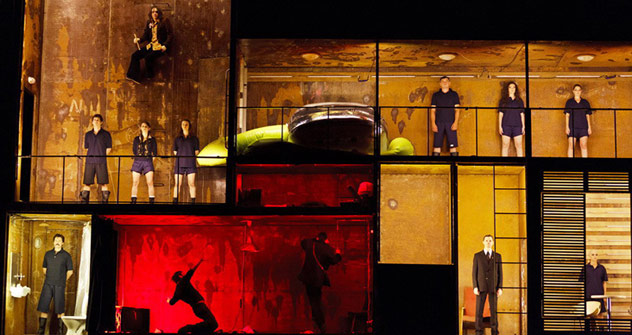 Tom Stoppard and the characters in his play to help raise money for Russian hospice patients.
Photo: Yevgeniya Lelyukina, Anton Belitsky
Although he professes love for the Russian theater, Tom Stoppard is a rare visitor to Russia. Preparation for the production of "Rock-n'-Roll" at the Russian Academic Youth Theatre (which premieres Sept. 22) was an exception. The British playwright was very engaged with the actors and personally supervised the entire process. In addition to launching the play, Stoppard was in Moscow to participate in a charity concert to aid Russian hospices. The concert will feature the heroes of his play: the Czech group Plastic People of the Universe and popular Russian rock musicians.
The plans started several years ago and, as is often the case, was the result of chance. Artemy Troitsky, a Russian journalist and music critic, once had a spare ticket to a performance of Tom Stoppard's play "The Coast of Utopia" at a London theater. He offered the ticket to Arkady Ostrovsky, a translator, who was so impressed by the play that, together with his brother Sergei, he translated it into Russian. In 2007, "The Coast of Utopia" premiered at the Youth Theater. Now, almost simultaneously, Stoppard's play "Rock-n'-Roll" is coming out in Russia in book form (translated by the Ostrovsky brothers) and is appearing on stage (at the Youth Theater).
The action begins in Cambridge in 1968, when Soviet troops invade Czechoslovakia, the hero's native country, and ends in Prague in 1990 with a Rolling Stones concert. Fifteen dramatic scenes are interspersed with musical numbers from such groups as the Beach Boys, Pink Floyd, Bob Dylan, the Plastic People of the Universe. Stoppard, a Czech-born British dramatist, shows how difficult it is to remain free in both a totalitarian and a democratic society and how important it is to live one's life as one wishes; and how difficult it is to love and to be a true friend.
Stoppard explains his concept this way: "Leaving aside rock-and-roll as such. I think the central idea of this play is that, in a totalitarian society, there is no-one who separates themselves from society," Stoppard said at a Moscow press conference. "There is official opposition, which is essentially part of the game. After all, the musicians did say, 'We don't care what you do, we simply want to play rock-and-roll.' In the play, I try to show that this is an untenable position: if you are not part of the game, then you are against it. You cannot say: we are not against, we are just not interested."
The result is a wise, sometimes sad and yet inspiring story.
"It is fantastic when a play becomes something more than a play and provokes something else," said Alexei Borodin, art director of the Russian Academic Youth Theater. "It is what we always strive for: for theatre to be more than theater."
Borodin's thoughts are echoed by the Vera charitable foundation, which supports hospices in 14 Russian cities so that terminally ill people can receive free medical, social, psychological, legal and spiritual help. "You see, this is not just a stage premiere, not just a Russian production of a great dramatist's work; it is truly a very ambitious cultural project," said Vera Foundation president Nyuta Federmesser. "Not by chance are hospices in it, because hospices are an element of society's culture. It is, indeed, not a medical but a cultural issue. I am very grateful to the organizers; for the first time, help for sick people is discussed not from a medical point of view but in terms of social culture, as it should be."
All rights reserved by Rossiyskaya Gazeta.