McFaul's long road to Moscow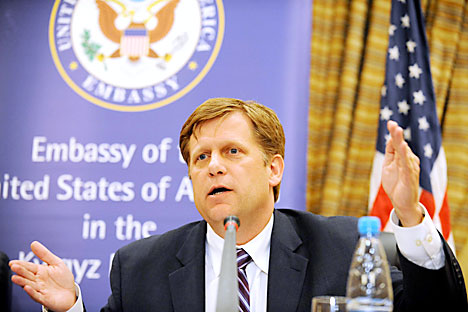 Michael McFaul will probably bring nothing more to the US-Russian reset. Source: ITAR-TASS
His nomination is before the U.S. Senate, but Republicans may choose to use the nomination as an opportunity to confront the Obama administration on other aspects of the "reset."
On Sept. 16, U.S. President Barack Obama submitted to the U.S. Senate the nomination of Michael McFaul to be the country's next top diplomat in Russia.
McFaul, who is currently a special assistant to the U.S. president and senior director for Russia and Eurasia on the National Security Council, will soon appear before the senators, many of whom, according to Capitol Hill insiders, will do their upmost to delay the confirmation process by demanding various political concessions from the White House on the "Russian front."


McFaul's path to one of the key positions in the U.S. foreign policy establishment began in 2008. During Obama's election campaign, the Russian affairs expert was chosen to serve as the future president's adviser on Russia and Eurasia.

McFaul has an impressive academic background – he received a Ph.D. from Oxford in 1991 and has been a long-standing fellow at the Hoover Institution at Stanford University, but—unlike all but one of Washington's last eight ambassadors in Moscow—he is not a career diplomat. In fact, he has never been an employee of the State Department. Nevertheless, he is considered one of Washington's authoritative Russia's experts.
First indications that McFaul could succeed current U.S. ambassador to Russia John Beyrle appeared in the "New York Times" last May. Later that month, the issue was discussed during a meeting between President Obama and President Dmitry Medvedev's at the G8 summit.
Sources in the Russian Ministry of Foreign Affairs later indicated privately that regardless of McFaul's deep personal connections to Barack Obama, his nomination isn't seen in Moscow as a breakthrough in U.S.-Russian relations. "He is a person we can certainly deal with and would like to deal with, but nothing more," a senior Russian diplomat said
According to some observers, this turn of events came as something of a surprise to McFaul. After serving in the White House for four years, he had planned to return to his academic career at Stanford. But the unofficial author of the "reset" policy couldn't resist the chance to promote U.S. interests in Moscow.

Conventional wisdom in Washington says that it will be much harder for the new U.S. ambassador to easily improve relations between Washington and Moscow. The lingering discrepancies over missile defense in Europe, the stalling of Russia's accession to the WTO, and uncertainty over Moscow's permanent graduation from the Jackson-Vanik amendment will be some of the main issues McFaul will have to address in the near future.

On the eve of Vice President Joe Biden's visit to Moscow in March, McFaul said that the Jackson-Vanik amendment is being considered in the White House as an issue "related to Russia's accession to the WTO, but the two are not linked."

"We have previously stated that we plan to terminate the application of Jackson-Vanik in the near future," he said. "We will plan for this, and this discussion will be related to the promotion and completion of Russia's final negotiations on accession to the WTO."

And when Russian Minister of Foreign Affairs Sergei Lavrov visited Washington in July, McFaul said that he felt confident a mutually beneficial agreement on missile defense would eventually be reached. However, on the question of how soon movement could be expected on these issues, McFaul joked: "This depends on how long it takes for the senators to approve my candidacy."
This may turn out to be no laughing matter. Some State Department officials have suggested privately that McFaul clearly underestimates the possible resistance to his nomination from influential Republicans. "If he is approved by the end of this year, it would be good for him," said one U.S. official.

Indeed, Obama's political opponents on Capitol Hill do not deny that they see the nomination of a new ambassador to Moscow as an excellent opportunity to "beat" the U.S. administration on the foreign policy front in general, and its Russia policy in particular.
All rights reserved by Rossiyskaya Gazeta.