Finance Minister Kudrin quits at president's urging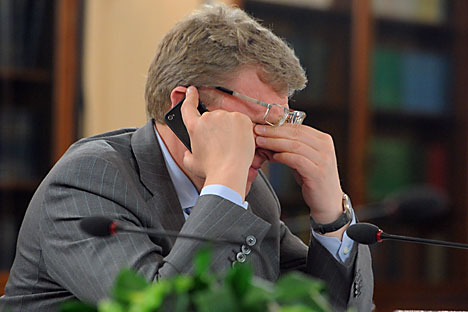 President Medvedev has signed Kudrin's resignation hours after the wrangle took place, the Russian president's press secretary Natalia Timakova reported.
During a meeting of the Presidential Commission on Modernization in the town of Dimitrovgrad in Central Russia, President Dmitry Medvedev stressed that everyone who does not agree with his politics is free to resign.
Then Medvedev turned his attention to personally to Finance Minister Alexei Kudrin, who had made earlier made disparaging remarks about the president.
Medvedev: "If you think your views on Russia's economic agenda differ from mine as president, you can resign. But you have to answer right here and now. Are you going to resign?"
Kudrin said he would have to discuss the situation with Prime Minister Vladimir Putin first.
Kudrin:"My opinions do differ from yours, but I'll only take such a decision after I've talked to the prime minister."
Medvedev demanded that the issue be settled before the end of the day.
Medvedev: "You can talk to whoever you want, including the prime minister, but as long as I'm the president, I make these decisions. You'll have to decide very quickly and give me an answer today. Either you reconsider the differences you're talking about or, if these differences do exist, I see no alternative than for you to resign. Although this would be an unpleasant outcome."
Kudrin, 50, started his political career in the 1990s working in St. Petersburg with the city's then-mayor Anatoly Sobchak.

In 1996, he began working in the Presidential Administration of Russia's first president Boris Yeltsin. And on May 28, 2000, he was appointed finance minister under then-President Putin. He also held the post of deputy prime minister in 2000-2004 and again since 2007.
The president said making that loud public announcement over the workings of the government, "looks improper and cannot be approved of" due to the violation of chain of command.
"Nobody abolished discipline and subordination in the government," Medvedev said. The fact the finance minister's statements were voiced while he was in the United States was particularly offensive, he added.
Kudrin's controversial statement, made to journalists in Washington, DC, came after the news broke Saturday of plans for a reshuffle in the Russian leadership. Vladimir Putin announced his intention to run for the presidency in the upcoming election. Dmitry Medvedev will lead the ruling party's electoral list at the parliamentary elections in December; he also said he would be glad to work as chair of the cabinet under President Putin.
"I don't see myself in the new government," Kudrin said. "The thing is not only that nobody offered me the position, but also I believe the differences I have won't allow me join this government."
On the same day Kudrin told RT television that he is not sure about his future and that there are many ways he can continue working for the good of Russia.
"I would like to say my future is not yet known. I said I was ready to work in any capacity if it helps in promoting reforms – those can be quite different, and not only in government. Concerning reforms, it's first and foremost about restructuring, ranging from the pension system, privatization, expanding competition in our economy, regulating the tariffs and liberalization of quite a number of industries where the state still prevails in price regulation," he said.
Originally published at rt.com.
All rights reserved by Rossiyskaya Gazeta.