India set to double inbound tourism from Russia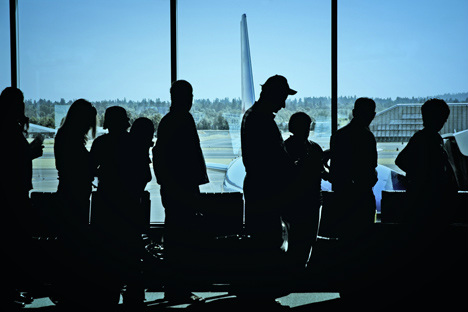 India is planning to increase the flow of tourists from Russia to 240,000, double the 2010 level. To this end, the visa issue procedure will be simplified, said the Union Minister for Tourism Shri Subodh Kant Sahai.
At least 30% of those who visit India go back again.
Although Russia is not yet among the top ten most important inbound markets for India, it is thought to be a promising country, the Minister said. "The Russian market is growing and the travel office that currently works with Russia from Frankfurt on the Main cannot handle the traffic", the Minister said during a conversation at the Leisure-2011 exhibition in Moscow last week.
Mr Sahai, who had met his Russian counterpart Vitaly Mutko, said that the two countries had decided to hold an Indian-Russian Tourism Forum to overcome the obstacles to travel. The forum will be held under the auspices of the India Tourist Office, which is due to open in Moscow on 1 October. India and Russia have also decided to hold tourist road shows in both countries.
India had an office in Moscow from 1997 until 2002, when it was moved to Frankfurt for exactly the opposite reason: because travel to India was not popular enough in Russia. True, as the Indian Tourist Office Mr Singh said at the time, that did not mean that the Indians had lost all interest in the Russian market.
India hosts 120,000 Russian tourists each year and the number is growing at a rate of 25-30% each year, Mr Sahai said. "We hope to double that number over the next few years", he told the Indian media after his visit to Russia.
He said that simplification of the visa rules for Russian tourists and progress in softening the visa regime between the two countries would certainly increase travel in both directions.
Mr Sahai stated that India would also like to simplify the process of direct Russian investment in India's economy-class hotels.
The ministry believes that, to ensure a steady growth in the flow of tourists, an increase is needed in the number of flights from Russia.
At present, only Moscow and St. Petersburg have direct air links with India. Soon, however, air links will be operating with Krasnodar, Yekaterinburg, Samara, Nizhny Novgorod and Vladivostok.
Indian Ambassador Ajai Malhorta, who accompanied the Minister of Tourism, said that the Indian embassy in Moscow and the missions in St. Petersburg and Vladivostok were issuing six-month multiple visas within three working days.
Mr Sahai stressed that, in future, India would be able to issue visas to Russian tourists on arrival if they travel from remote regions of the Eurasian giant.
The total flow of foreign tourists to India in 2010 was 5.6 million. For comparison, in 2010 India hosted 916,000 tourists from the USA and 755,000 from Britain, these two countries accounting for a third of all inbound tourism. The number of tourists from Germany and France is much smaller, 224,000 and 218,000 respectively. Other important markets for India are Sri Lanka, Bangladesh, Japan and Australia.
The country expects to maintain the current 10% growth rate in 2011–2012. The growth will be driven not only by flows from traditional Indian markets but also from the newcomers: Eastern Europe and Russia. In Russia, the office will not confine its work to Moscow and St. Petersburg and is planning road shows in many other regions. Subodh Kant Sahai said the office would cooperate closely with Russian tour operators.
All rights reserved by Rossiyskaya Gazeta.