Putin model for Manmohan?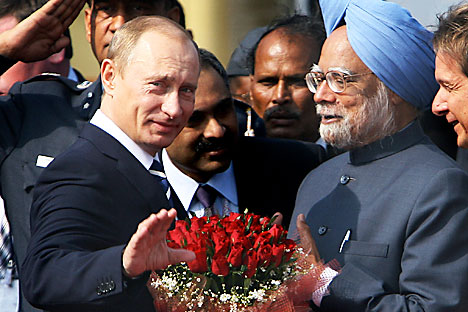 Valdimir Putin is an unlikely role model for the prime minister of the world's largest democracy. Yet, there are some things he gets just right.
If Putin was a character invented by Russian novelist Nikolai Gogol, he would undoubtedly be called 'Dictator Dictatorovich.' With his recent announcement on September 24, it has become certain that the Russian premier is poised to return as the president for a third term, which will once again make him the de jure and de facto chief of the Kremlin – this time till 2024. So what could Manmohan Singh, the prime minister of the largest democracy, possibly learn from an autocrat? Well, there are some things Vladimir Vladimirovich gets just right, and one of them is PR.
Public relations are perhaps the single most important tool in a politician's arsenal to manage his/her image, and can play a crucial role in his re-election. Putin knows this all too well. And for all his fabled skills as an economist, Manmohan Singh seems to be at sea when it comes to PR. Much like Dmitry Medvedev is accused of being the Puppet President, Singh has trouble keeping the 'puppet Prime Minister' image at bay. So here are tricks out of Putin's hat that can help Manmohan Singh reinvent himself, and perhaps even rescue the Congress at a time when its political capital has been depleted by the 2G scam, the Commonwealth Games loot and the Lokpal debate.
Talk the Walk: Russia may seem like a monolithic state but like India it, too, is diverse in terms of the different languages and cultures that live inside its borders. This is an easy way to score brownie points on official visits. Putin did exactly that during his visit in 2005 to the Russian city of Kazan when he opened the conference not in Russian but in Tatar. He was greeted with an excited applause when he finished his first sentence, to which he responded, "This is not all of what I am capable of." Of course, there is a time and place for such effort and a dash of humor – and folly, which comes from getting the accent and words wrong. Putin was mindful of this and pulled this trick when Kazan was celebrating 1000 years since its foundation. Now most Indians don't have the luxury of knowing how old their cities are, but Mr Singh can certainly pull this off at State Day functions in New Delhi. The key would be to balance the act and make sure each state's language gets its fair share.
Rock the Boat: If he spoke Tatar as President, Putin got down to some hip-hop as the Prime Minister in 2009. But this was hip-hop with a human face, if you will. Putin attended the Russia's Muz TV's hip-hop music contest and attempted to discourage hip-hop's violent tendencies. "I do not think that 'top-rock' or 'down-rock' breakdance technique is compatible with alcohol or drugs," Putin said to the audience of about 100 rappers. "Respect, Vladimir Vladimirovich!" they erupted. Similarly, Mr. Singh could reach out to vulnerable segments of the population and campaign against caste-based violence, human trafficking and finally, corruption! Who knows – if he had done the latter before Anna Hazare came out with Lokpal, he could have saved his party a lot of embarrassment and shed his soft PM image.
Be the song you sing: In December 2010 in yet another display of his countless talents, Putin played the piano and sang Blueberry Hill at a charity gala in Saint-Petersburg to raise money for children. Now it might be difficult to learn how to play a musical instrument while running a country, so I will tell Mr. Singh to do something that should be right up his alley – bhangra! Mr Singh could easily shake a leg to raise money for underprivileged children's' education, or anything else that makes life easier in a country where nearly 42% of the population falls below the international poverty line. Mr. Singh won't be short of causes for his performance, he just needs some fire in his belly and dancing shoes.
Those who were expecting a serious political analysis may have been offended by my tongue-in-cheek suggestions. But the point still stands – 50 years from now, Putin won't be remembered as a PR charmer but as the man who refused to leave the Kremlin. Manmohan Singh, however, seriously risks leaving the legacy of an honest PM who didn't speak much or connect with his people. And if Putin's tactics can turn that around, then why not? As Mr. Singh turns 79, here's wishing him a successful term with the hope that he will surprise us.
All rights reserved by Rossiyskaya Gazeta.